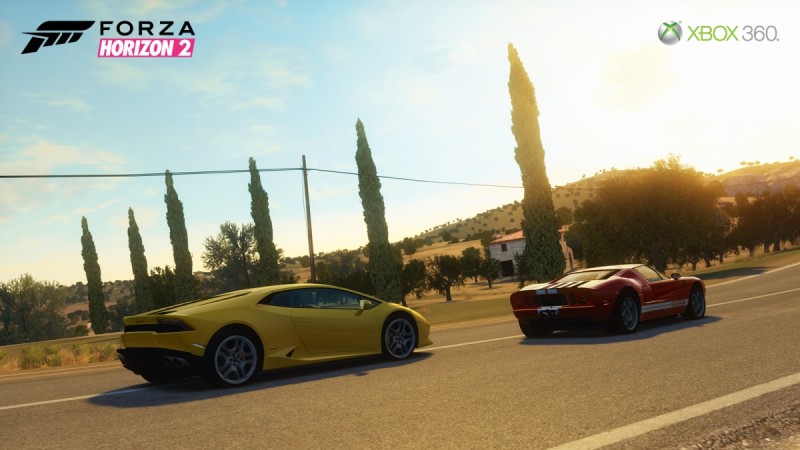 The reviews for Forza Horizon 2 are out and majority have been upbeat about the game with most of them being positive. IGN even calls Forza Horizon 2 the best-in-class.
The racing title is developed by Playground Games and Turn 10 Studios and is published by Microsoft Studios. The game will be an exclusive Xbox 360 and Xbox One platforms.
The racing game has more than 200 cars in the roster. It includes some like the 2014 Lamborghini Huracan LP610-4, the McLaren P1 and LaFerrari. It includes vehicles of different variety like exotics, rally cars, trucks, hot hatches and others.
The setting for the game will be southern Europe - mainly southern France and Northern Italy. The game takes place during the fictional "Horizon Festival."
The game will have dynamic weather features with events taking place at day or night. In order to progress in the game players will not only have to explore the game but must also take part in races and special events.
Forza Horizon 2 has an online mode called Car Meets where players can come and compare their cars, they will also be able to interact with others here.
Forza Horizon 2 will be releasing on 30 September 2014 for North America and 3 October 2014 for Europe.
Below are the reviews for Forza Horizon 2:
"It's a racer informed by many others but, when it comes to open-world racing games, Forza Horizon 2 is best-in-class."
"A near-perfect arcade racer, with gorgeous graphics, beautiful scenery and some of the best on-road and off-road driving around. With Forza 5's guts still inside it, you can make Horizon 2 as arcade-easy or demanding as you choose, and throughout the game shows a level of flair and invention that leaves its would-be rivals choking dust. It might not be the best racing game we'll see this year, but it sets a fearsomely high benchmark for others to beat."
"The excellent foundation below Forza Horizon 2's open world and the experimentation that it occasionally encourages at least provide a reason to race there. But that same open world serves as a less well-executed space to race and drive than the tracks that have defined previous games, and the open-world activities can't quite make up the difference."
"All in all, it's a new, friendly context for multiplayer racing that's in total harmony with the solo game's adventurous, celebratory tone. In the original Horizon, as terrific as it was, the festival theme felt like a marketing hook first and a clever game structure second. In Forza Horizon 2, it's more like a philosophy, an outlook, a mood that has seeped right through to the core of the game and infused the whole thing with a pure, escapist joy."
"Forza Horizon 2 is a highly addicting adrenaline rush that never lets off the gas.It is a competitive and social stratosphere where you can constantly improve your skill, master new races, beat your friends, all while exploring the magnificent world that is Forza Horizon 2."
"Every element in Forza Horizon 2 adds up to an exceptional experience. The story isn't over the top so as to get in the way of racing, driving feels as good as it ever did in Forza Motorsport, there's a ton of things to do, and the game looks absolutely beautiful -- especially the long-awaited dynamic weather system. Forza Horizon 2 is a must-have on the Xbox One."
"Forza Horizon 2's world isn't the most lively, beset as it is by roaming bands of automotive enthusiasts, but it leaves room for the living – for you. There's space enough to imprint your moods, whether you rocket into hairpins with a Ferrari or simply cruise around in a gaudy, gold Bentley. Forza Horizon 2 is a big, bouncy summer drive."
"Despite its namesake, Horizon 2 seems to fit alongside competition like Need For Speed: Rivals – with its next-gen visuals and features also preparing a head-to-head bout with Ubisoft's The Crew. But as outlandish as the action may get, the strength of the Forza tradition provides a link for simulation fans to hold onto."
"The cherry on top of this is the extensive and enjoyable online mode, which seamlessly links with the action thanks to the option to quickly switch on the menu screen. Barring a slightly more restrictive career mode, Forza Horizon 2 more than builds on the solid foundations laid down by its predecessor. Forza Horizon 2 easily records a podium finish ahead of what is going to be a busy winter for the racing genre."
"Right now Forza Horizon 2 is the top open-world racing game around and the best racing game I've played in years. The racing genre seems to be experiencing a bit of a resurgence and Playground Game's latest title is leading the charge."