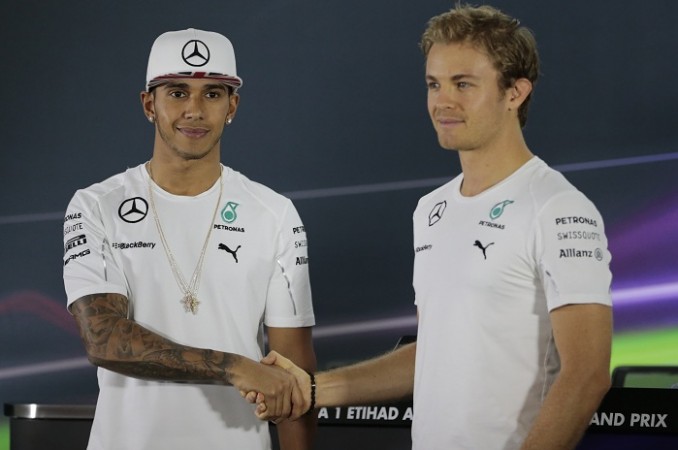 The Formula One season of 2014 was dominated by Mercedes as they finished with 701 points, almost 300 points clear of Red Bull Racing-Renault, who finished with 405 points in second position.
The team would be thankful to their drivers, Lewis Hamilton and Nico Rosberg, who were first and second respectively in the drivers' standings. Hence, both the drivers would be under pressure to perform during the 2015 edition as well, which starts in a few days time with the Australian Grand Prix.
Hamilton is aware of the competition this season with teams such as Ferrari, Red Bull etc trying to prove with their cars.
"We had a great season last year as a team and, of course, we'd all love to repeat that. But the others won't stop chasing us. I'm sure the competition will be close and we should get exciting racing with plenty of battling for position - which is great because that's what I love doing and that's what the fans love watching," Formula One's official website quoted Hamilton as saying.
Hamilton was in great form last season as he won 11 out of the 19 F1 races that took place, while his German compatriot, Rosberg won five races.
While the Briton knows that there are a number of quality racers in the circuit who would want to win the title, he feels he is ready for the competition.
"There are many good drivers out there and all of them want to win. You just have to want it more than they do. I feel fresh, I feel fit, I feel relaxed, I feel positive... I feel ready. I think as a driver you get stronger with every season, so I plan to be better than last year."
Drivers such as Sebastian Vettel, Fernando Alonso, Jenson Button were not impressive last season as neither of the three drivers managed to win any race. So they would be eager to prove themselves this season.
Vettel finished fifth with 167 points, while Alonso and Button finished sixth and eighth respectively with 161 and 126 points.
So what these drivers would be looking for is a good start to their F1 campaign starting from the Australian Grand Prix, as it could provide them with the confidence to challenge Lewis Hamilton and co. during the course of the season, which is not going to be an easy affair.