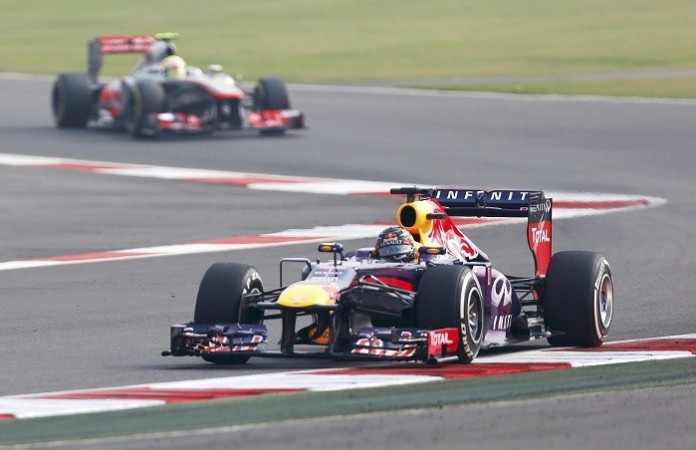 World champion-in waiting Sebastian Vettel took pole position in the Formula One Indian Grand Prix at the Buddh International circuit, as Fernando Alonso, the only man who can stop the Red Bull driver from winning the drivers' championship on Sunday, could manage only eight place.
Vettel, who dominated all the practice sessions, topped the timesheets with a flying lap of 1:24.119 in Q3, with Mercedes' Nico Rosberg set to line up alongside him. Rosberg was well behind Vettel, timing 1: 24.871.
"I try not to think too much of the consequences of the result on Sunday," said Vettel, who if he finishes in the top-5 will be crowned world champion. "And that is hard enough when every second question revolves around it. I was told that the mathematics reads as following: he (Alonso) has to win or at least finish second and I have to finish at least in P5.
"But I am not making too much of such mathematical brainteasers -- I simply want to focus on my race. If I were to finish fifth on Sunday and had had the opportunity to finish first, then I definitely would be dissatisfied with the day. But of course the big target is a completely different matter."
Rosberg's teammate Lewis Hamilton will start third on the grid while Mark Webber, in his final few races before retirement, starts fourth.
Fernando Alonso, in the medium tyres, only managed eighth overall, with teammate Felipe Massa posting the fifth fastest time.
Alonso, though, along with Webber, will start on the harder compound tyres, meaning he will be able to stay on the track a little longer than the others.
Lotus driver Kimi Raikkonen, who will be Alonso's teammate at Ferrari next season, was sixth with Sauber's Nico Hulkenberg seventh.
The two McLaren's rounded off the top ten, while the Force India's failed to make it to Q3. Paul Di Resta did marginally better than his teammate, qualifying 12th with Sutil a place behind the Brit.
The in-form Romain Grosjean's gamble of setting his time on medium tyres failed with the Lotus driver not even able to make the cut to Q2.
However, Grosjean will have three sets of soft tyres and two sets of medium for the race, but faces a tall order of trying to find his way from 17th place on a track where there are not too many overtaking areas.