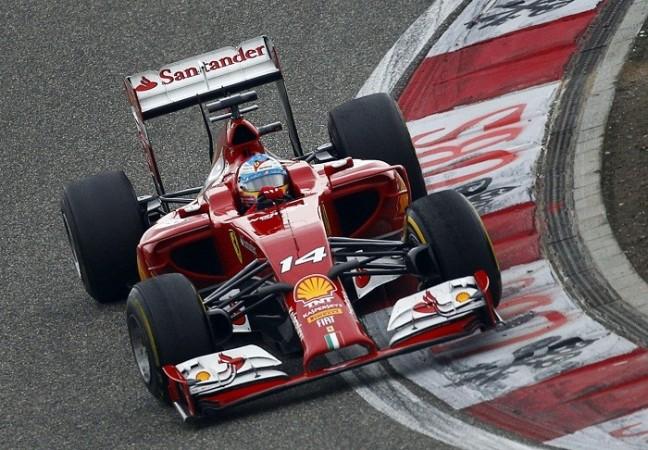 Ferrari's Fernando Alonso is hoping to close the gap on the championship leaders Mercedes in the Spanish Grand Prix, where the two-time world champion won his last race in front of his home crowd a year ago.
Alonso has only scored one podium this season - a third place finish in the Chinese Grand Prix - and he said that this result will encourage the team to close the gap on the championship leaders Mercedes.
"The China result is a boost for all the team - extra motivation to keep working hard. As you said we are not in a position we are happy with," Alonso said. "We start with some deficit to the top teams, especially Mercedes who won the first four races and is dominating now with good margins, so we try to decrease that gap and we try to get closer and closer."
Alonso said that the Circuit de Catalunya will suit Ferrari and added that the team is also coming with a few updates. However, they are not different from the other teams of the grid.
"I think the characteristics of the circuit will help us a little bit, with not too big straights - only one here on the finish line," Alonso explained. "About the new parts, we bring some new parts but nothing out of this world. I don't think we will be different compared to any other top team in terms on what we bring here, or even less. We need to see. As I said, track characteristics are the biggest help we have here."
The Spaniard said that it is too early to think about a podium finish in Barcelona and the team is not setting any false targets as it is not in a position to challenge for the top three positions.
"No, I don't think so. We cannot start the weekend thinking to be on the podium. Or thinking to win the race. That will be creating... y'know, false targets to everyone who will come here. We finished ninth and tenth in Bahrain, we did podium in China because we had some things putting together on that Sunday but it's not that we are in a position now to say we will fight for the podium here."
The double world champion said it's going to be a tough weekend, but the team will try its best in the Sunday's race.
"We will do our best but we know it is going to be a tough weekend and it's not going to be easy," the Spaniard said. "But, you never know, this is sport and anything can happen but today, sitting here, if I tell you that I will fight for the podium, probably I will lie to you and I don't want to do so for all the people coming."
Where to Watch Live:
Formula One: Spanish Grand Prix Live Streaming Information
Friday Practice One: 10:00 am local time, 13.30 pm IST, 8:00 am GMT
Friday Practice Two: 14:00 pm local time, 17:30 pm IST, 12:00 pm GMT
Final Practice Three: 11:00 am local time, 14:30 pm IST, 9:00 am GMT
| | |
| --- | --- |
| Country | TV Broadcaster |
| India | Star Sports 4, Star Sports HD2 |
| US | NBC (Practice 2) |
| Canada | TSN 2 (Practice 2) |
| United Kingdom | BBC, Sky Sports |
| Middle East and North Africa | Bein Sports Arabia |
| Germany, Italy | Sky Sport |
| France | Canal+ |
| Asia | Fox Sports |