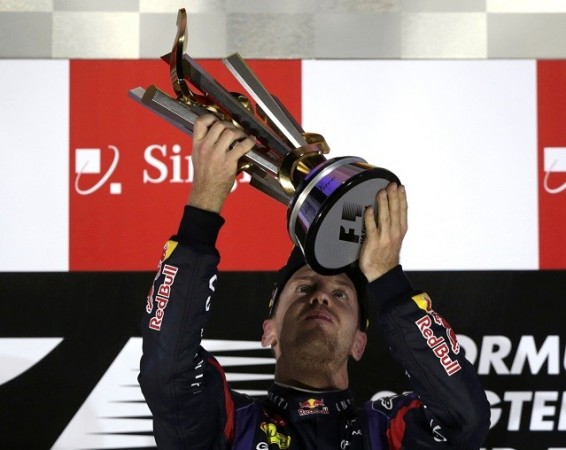 Sebastian Vettel said he was unconcerned the round of boos that greeted him on the podium after he romped to another win in Formula One by topping the Singapore Grand Prix.
Vettel, who finished ahead of Fernando Alonso and Kimi Raikkonen, was booed by fans in both Italy and Belgium, was given the same welcome in Singapore with the German world champions blaming travelling Ferrari fans for the jeering.
"It's not nice but I think you should look around the grandstands. Most of the fans are dressed in red," Vettel, who is well on his way to another F1 title, said, referring to Ferrari's team colour.
"They're quite emotional when they're not winning and if somebody else is winning they don't really like it.
"And as it seems in a sense they are on a tour, they're wealthy enough to go to a lot of races at Monza or take the flight to come here to Singapore."
Vettel sees the booing as a compliment really, because according to him it means his team Red Bull are doing well.
"As long as they keep booing we're doing a very good job, that's the way I see it," Vettel said. "It's not people from Singapore or from one country only.
"It's normal in sports -- when people support one driver they don't like another driver to win, equally there were a lot of German flags round the track.
"The lap after the chequered flag there were a lot of people cheering. Obviously I didn't give them the most exciting race -- but on days like this, I really don't mind."
It was a start to finish win for Vettel, who now has 247 points, 60 ahead of nearest rival - Ferrari driver Alonso.
The German described the win as "super" after looking unbeatable yet again, saying the dominance was the result of some tireless work. "
I have said over the team radio that this is a team victory because on a track like Singapore everything has to fall into place -- the car, the strategy and the window of flexibility," he added. "And today (Sunday) everything worked just perfectly.
"But that comes, of course, with a price: when others are already sitting at the poolside we are still in the paddock working meticulously on the smallest detail. So yes, success has its price. (laughs) But it does make a difference over a race weekend -- and over the whole season."