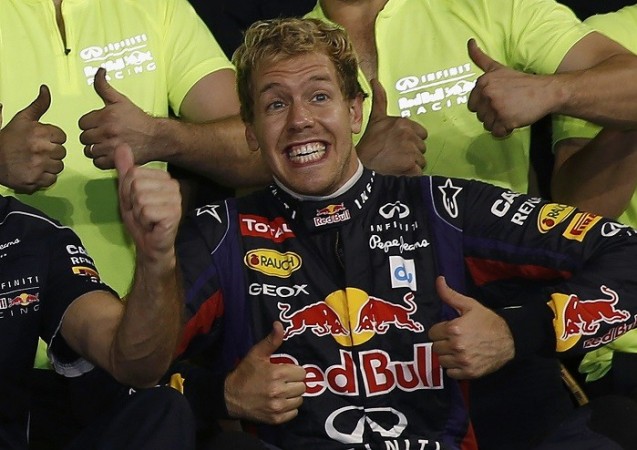 Sebastian Vettel does not seem to know how to finish anything other than first at the moment in a Formula One car.
The unstoppable German, who clinched his fourth straight world title at the Indian Grand Prix a week back, continued his dominance of the F1 circuit with a serene victory in the Abu Dhabi Grand Prix on Sunday at Yas Marina.
Vettel's Red Bull teammate Mark Webber, who will retire at the end of the season, took second and with it topping 1000 career points.
With the victory in Abu Dhabi, Vettel completed his seventh consecutive win this season and 11th overall, with the 26-year-old refusing to relinquish his lead after overtaking pole-sitter Webber at the start.
"Today's race was unbelievable -- close to perfect," Vettel said. "We knew that yesterday in qualifying -- after the track improved significantly -- caught us on the wrong foot. On top of that I didn't really squeeze everything out of the car and haven't been all too happy with myself, but today [Sunday] made good for that.
"We knew that the car would be very fast in the race, as we've been targeting that since Saturday -- and there you had it. The setup was just awesome and that gave us the chance to control the race from the front -- from lap one. A very luxurious feeling!"
Mercedes' Nico Rosberg completed the podium places with third, with Romain Grosjean in his Lotus taking fourth, while Ferrari's Fernando Alonso finished fifth.
Webber rued his slow start which allowed both Vettel and Rosberg to leap ahead of the Australian, but the veteran, who would soon regain at least second place, admitted there was little anyone could do against Vettel in such form.
"Seb was on another planet today and was very, very strong in the first stint," Webber said. "He was super quick and his tyres didn't wear out, which is a recipe for disaster for the rest of the opposition, me included. Nico had a very good start on both Sebastian and I, but fortunately it wasn't a long run to the first corner.
"We got under way from there and I attacked Nico on the first lap, but then we had to look after the tyres, so we waited and then on lap eight or nine we were in trouble with the rears. I made a good move on Nico to get back into position. It would have been good to win, but we got second and I'll go to Austin and try and do better."
Force India had a good outing in Abu Dhabi, with Paul Di Resta finishing sixth, ahead of Lewis Hamilton and Felipe Massa, while Adrian Sutil took the final points-position with tenth.
"It's a great feeling to finish sixth and make the one-stop strategy work," Di Resta said. "I said yesterday [Saturday] that we had opted to set the car up more for the race and it really paid off. There were times when we had to be very quick and times when we had to manage the pace and look after the tyres.
"The eight points are just what we needed and everybody in the team deserves credit for the big effort that has gone in this week. That's two strong weekends in a row and we will move to Austin determined to keep up the momentum."
Kimi Raikkonen, who nearly did not even make it to Abu Dhabi due to a dispute with his team Lotus, did not finish the race, retiring in the first lap after hitting the back of Giedo Van Der Garde's car, and with it damaging his right-front suspension.
As Vettel made his first pit stop on lap 14, Raikkonen, who will drive for Ferrari next year and started at the back following a penalty, could be seen leaving Yas Marina.