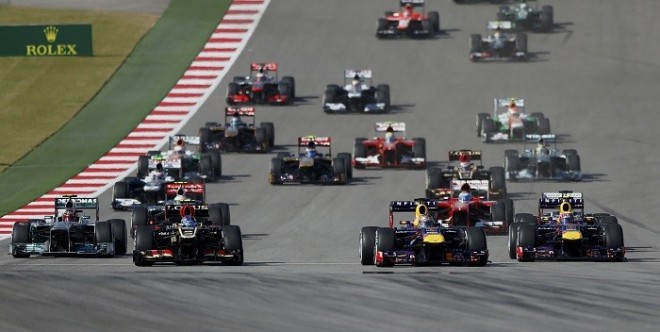 Sebastian Vettel's domination of Formula One showed no signs of abating as the world champion romped to his eighth successive victory of the season with a win in the United States Grand Prix.
The victory also sealed yet another record for the seemingly unbeatable German, with Vettel topping Michael Schumacher's previous record of seven straight wins in a season.
Starting from pole, Vettel hardly ever relinquished the lead, barring for a brief time when he made his pit stop, and was in supreme control through the 56 laps at the Circuit of the Americas in Texas.
Lotus' Romain Grosjean took second with Vettel's Red Bull teammate Mark Webber, in his penultimate race in F1, completing the podium positions.
"It's impossible to know what to say," a delighted Vettel said at the podium. "First of all, I would like to say thanks to the crowd. It's unbelievable. It's only our second race here. Second race here and we've got more than 100,000 people coming on Sunday. I think this is one of the best races we have all season. The whole city is going crazy, so it's phenomenal to race here in front of the crowd.
"The car was fantastic. It was a bit tight at the start; Romain had a good start initially, I didn't know whether it would be enough. It's tough judgment up the hill and then I just tried to focus on myself. We had incredible pace again in the car and could control the gaps. I don't know, eight in a row is... you are a legend, you know...."
Vettel, who won the US GP for the first time, leaving just the Hungarian GP as the race remaining to conquer on his list, now has one more record in sight - that of matching Alberto Ascari's mark of nine straight wins set over the course of the 1952 and 1953 seasons. Having already taken another of Schumacher's record's away with him, there really is nothing stopping the world champion from adding this remarkable achievement as well to his collection.
While the win might have looked as easy as they come to everyone watching, Vettel insisted there were a couple of worrying moments in there, which could have hampered his attempts at breaking Schumacher's record.
"A race is never a walk in the park," he said. "At the start I realised that the grip level was not as high as we had assessed, so getting to pace was a bit difficult and I think that Romain had a much better start. I told myself: be patient, don't play it too aggressive, and the grip was enough to keep in front.
"To be fair, the car was pretty nervous on the soft tyres -- I had quite a lot of oversteer so during the whole first stint it was not so easy to cope with the first sector and the fast corners. I had to be very careful not to lose the rear and simultaneously see that the rear tyres stayed alive and made it through the twenty laps to make our one-stop strategy work.
"In the middle of the stint -- when I realised that I was getting away -- I knew that this would help for whatever else would come my way this afternoon."
Mercedes driver Lewis Hamilton came in fourth, with Fernando Alonso in a Ferrari taking fifth. Nico Hulkenberg, despite a late charge on Alonso, who has overtaken him for fifth place, had to settle for sixth, with Sergio Perez, Valtteri Bottas, Nico Rosberg and Jenson Button completing the top-ten.
Force India has a race to forget with Paul Di Resta on managing 15th, while teammate Adrian Sutil didn't even make it past the first lap after colliding with Pastor Maldonado, which brought out the safety car for the next four laps.
Results: 1. Sebastian Vettel; 2. Romain Grosjean; 3. Mark Webber; 4. Lewis Hamilton; 5. Fernando Alonso; 6. Nico Hulkenberg; 7. Sergio Perez; 8. Valtteri Bottas; 9. Nico Rosberg; 10. Jenson Button; 11. Daniel Ricciardo; 12. Felipe Massa; 13. Esteban Guttierez; 14. Heikki Kovalainen; 15. Paul Di Resta; 16. Jean-Eric Vergne; 17. Pastor Maldonado; 18. Jules Bianchi; 19. Giedo van der Garde; 20. Charles Pic; 21. Max Chilton; Adrian Sutil (retired).