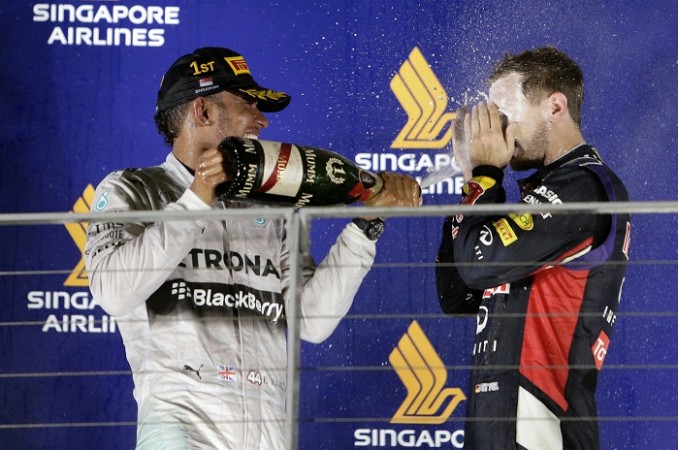 Lewis Hamilton had that perfect outing he would have dreamt of -- getting onto that top step of the podium of the Singapore Grand Prix, while also sneaking ahead in the driver's championship race after Mercedes teammate Nico Rosberg was forced to retire early.
"I was dreaming it [of the win] last night but you never really think it's going to happen," Hamilton said at the podium after seeing off competition from Red Bull duo Sebastian Vettel and Daniel Ricciardo on Sunday. "I just want to say a huge thanks to my team.
"What they've done this year is absolutely incredible and to be able to arrive here knowing that we have a car we can fight with, and just the feeling I had through the race, it's... I couldn't do it without them."
Courtesy the victory at the Marina Bay circuit under a wonderful Singapore night, Hamilton now has 241 points, three ahead of title rival Rosberg, who retired early in the race because of technical issues. Rosberg would have probably known it was not going to be his day even before the start as the then-championship leader struggled to even get out of the pits.
The eventual clean start helped settle Hamilton's nerves at the beginning, with the Brit then showing impeccable poise and ability when required to ensure he would take the chequered flag first.
"Nico not being there [at the start] was a massive weight off my mind," said Hamilton. I came here hoping to really gain those seven points and anything more than that was just a bonus, so today, of course, those extra points are a huge help.
"That's several DNFs [Did not Finish] we've had now on either car and we want to continue getting those one-twos still. I know that the team will not be 100 percent happy because we want to win collectively, we want to get those one-twos, we want to be the dominant team all together, so by not getting that result, they'll be going back to the drawing board trying to figure out what happened."
For Rosberg, understandably, the Singapore GP turned out to be a nightmare –beaten by Lewis Hamilton by a fraction in qualifying, and then not even able to mount a proper challenge in the race to ensure he stayed in the race lead.
"It was the toughest day of the year for me and right now I only can say that I am in agony and desperately trying to come up with a logical explanation for all that," said the German to Formula One's official website.
"It was an ugly feeling sitting there and being completely helpless, knowing that your whole race is going out the window. Reliability is our weakness. We have to get to the bottom of things.
"Reliability will be a major factor in the title race, but thinking that it will cost me the title is very pessimistic - and I am optimistic."
Both of Force India's drivers finished amongst the points at the Singapore GP, with Sergio Perez coming in seventh, while Nico Hulkenberg finished ninth.
"The race really had everything for me and the final laps were very enjoyable," said Perez. "I was very happy with our performance. We managed our tyres perfectly and to go from P15 to P7 was the reward we deserved. It was a great result for the team; they did a fantastic job with the strategy and it worked very well for both Nico and me."
Results: 1. Lewis Hamilton (Mercedes); 2. Sebastian Vettel (Red Bull); 3. Daniel Ricciardo (Red Bull); 4.Fernando Alonso (Ferrari); 5. Felipe Massa (Williams); 6. Jean-Eric Vergne (STR-Renault); 7. Sergio Perez (Force India); 8. Kimi Raikkonen (Ferrari); 9. Nico Hulkenberg (Force India); 10. Kevin Magnusson (McLaren).