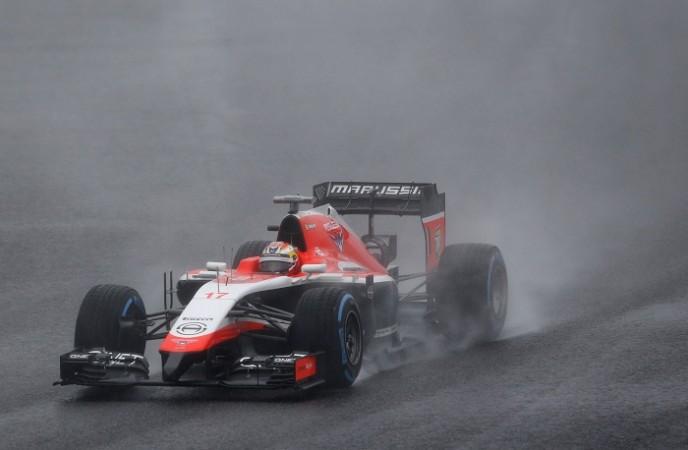 French Formula One driver Jules Bianchi has suffered severe head injuries and is undergoing surgery after a crash that cast a pall over Sunday's Japanese Grand Prix.
The unconscious Marussia driver had been taken by road ambulance to Mie General Hospital near the Suzuka circuit after the accident that brought out red flags and led to the race being stopped early.
"The CT scan shows that he has suffered a severe head injury and is currently undergoing surgery," the governing International Automobile Federation (FIA) said in an update on his condition.
"Following this he will be moved to intensive care where he will be monitored."
Bianchi, a graduate of Ferrari's young driver academy, is seen as an up-and-coming talent in Formula One after scoring Marussia's first ever points when he finished ninth at this year's Monaco Grand Prix.
The accident occurred at the same point of the track, the Dunlop Curve, where Adrian Sutil had aquaplaned off a lap earlier and involved a tractor that was lifting the stricken Sauber.
The FIA confirmed Bianchi had hit the back of the recovery vehicle as he skidded off.
The crash brought out the safety and medical cars and led to the race, already threatened by the advancing Typhoon Phanfone, being red flagged and not re-started with the result declared after 44 of the 53 scheduled laps.
There were no podium celebrations and the champagne was left unsprayed, with the top three drivers merely clinking the bottles before putting them back on the ground.
"It's obviously a real anti-climax to hear that one of our fellow colleagues is seriously injured so that's really the main worry," Mercedes' race winner Lewis Hamilton told the BBC.
"You could see some commotion and the car was really badly damaged on the right. We just hope he's OK."
"I'm not thinking about the race, I'm thinking about my colleague," said the Briton's second placed team mate Nico Rosberg. "I've been given some information and it seems very, very serious. I'm hoping for the best."
McLaren's Jenson Button, who finished fifth, said it was "an accident that you hope never happens in Formula One."
Bianchi is a regular travelling companion of Ferrari's double world champion Fernando Alonso and popular with other drivers, with whom he often plays football.
Formula One is proud of its safety record, and constantly strives to make cars safer, while remaining acutely aware that the sport will always be dangerous.
"Motor-racing is dangerous. We get used to it if nothing happens and then suddenly we are all surprised," former champion Niki Lauda, who came back from a near fatal crash in 1976, told reporters.
The death of Brazilian triple world champion Ayrton Senna, in 1994, remains the last driver race fatality but there have been close escapes since then.
Marussia's former test driver Maria De Villota, who died last year, lost her right eye and fractured her skull when the Spaniard's car accelerated into the back of a parked team truck at a 2012 test in England.
Brazilian Felipe Massa suffered life-threatening head injuries in Hungary in 2009 when he was hit on the helmet by a bouncing spring shed from the car of compatriot Rubens Barrichello.
Massa made a full recovery from that incident and was racing for Williams on Sunday. Media reports said the Brazilian went with other drivers and team officials to the hospital.