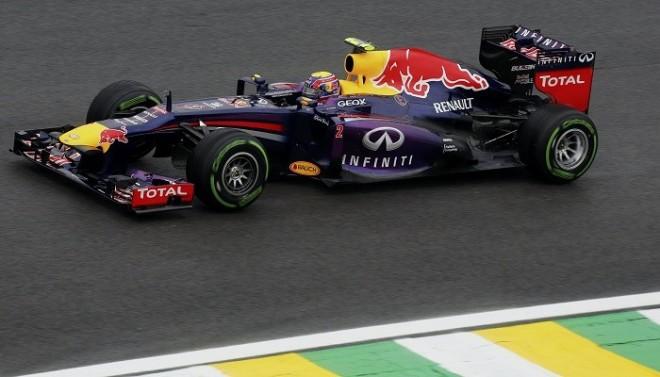 Mark Webber bids goodbye to his career in Formula One with the final race of the 2013 season in Brazil.
Webber's Red Bull teammate and the unbeatable man of the moment Sebastian Vettel, of course, took pole in a rain-filled session at the Brazilian GP in Interlagos, but all eyes will be on the Australian as he embarks on his final chapter as an F1 driver.
Nico Rosberg and Fernando Alonso will start ahead of Webber on Sunday, and the Australian will hunt for a fairy tale victory from fourth on the grid.
"We are where we deserved to be I think, as I didn't feel that quick in qualifying," Webber said. "The car felt slow and I was struggling for grip. It was tricky for all of us, but we're on the second row and we can still do something from there.
"It's tricky to get it all together in those conditions, I wasn't too comfortable in Q1 and Q2 on the intermediate tyres, but that's the way it goes. There's not much more to add really than it was tricky, it's easier to be a lot further back in those conditions and we can still do something from fourth, so let's see tomorrow [Sunday]."
World champion Vettel, having already crossed Michael Schumacher's record of seven consecutive wins in a season, will go for an incredible ninth straight victory, and with it equalling the mark set by Alberto Ascari, when he won nine straight races in the 1952 and 1953 seasons.
"I was so happy after the quali, obviously, especially Q3, it took a long time for us to get out [because of the wet weather]. There was a lot of rain after Q2, already at the end of Q2," Vettel said. "Yeah, we need to wait. If there's too much water it's a shame for the people who wait for us to come out, but there's too much water and the risk of aquaplaning is too high.
"So it took a long time and then got out. I was surprised by how much of the water had gone. I went straight on intermediates and was able to get a very, very good lap in straight away. Tried again in the second to beat that. It was very close, so with both my laps I was very happy.
"Surprised by the margin. When I was told I was very happy. I even mixed up Spanish and Portuguese. I was on the radio saying "ole, ole" but ole is Spanish so I don't know the expression in Portuguese but maybe someone can tell me today and hopefully I'll have another chance tomorrow [Sunday]. But great in these conditions to get it all right. We had very little practice and still got the car where we wanted it to be in the end so very happy."
Where to Watch Live
The race is scheduled for a 9.30 pm IST start with live coverage on Star Sports 2 and Star Sports HD2. You can also catch the action via live streaming on the official Star Sports website and Racematelive.com. To watch the race live stream in the U.K, click HERE.