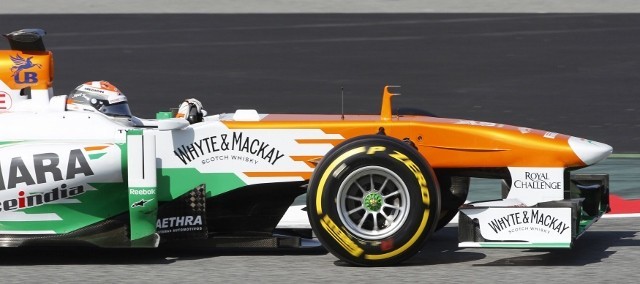 Sahara Force India will know they could have done a little better last season in Formula One, although there were visible improvements as the season wore on.
Force India finished with 109 points for a seventh-place finish in the constructors' championship in 2012, a tally they will be desperate to improve on as the 2013 season comes into play starting with the Australian Grand Prix this weekend.
A familiar face will also be on view in the cockpit with Adrian Sutil returning to his former team after a one-year hiatus. The 30-year-old will team up with talented youngster Paul Di Resta.
Much is expected of the German this year, after he was dumped from the driver lineup last season following allegations of physically assaulting Renault executive Eric Lux during a night out in 2011.
"(Last season) was an interesting year because I experienced life away from Formula One and in many ways it has given me a new perspective," Sutil said ahead of the season opener in Melbourne. "I think it helped me grow as a person and I feel mentally stronger as a result. I feel fresh and energized, and ready for the season."
Despite not being in a formula one car for a year, Sutil said he had no problems in getting back on pace while driving the VJM06.
"When I was back in the car for the first time in Barcelona it felt natural -- almost as if I had never been away," he added. "I was back on the pace and able to push hard straight away. I've only spent three days in the car during testing, but already I'm feeling very comfortable.
"It's very driveable and the balance is good. There is still a lot I need to understand, especially in terms of the tyres, but we're in a good place already."
Team principal and co-owner Vijay Mallya is hoping for sound start to the season, with a few points added to the kitty after the Australian GP.
"I'm really looking forward to the start of the season," he said. "We've picked up points in Melbourne for the past couple of seasons so that's a clear objective for this coming weekend.
"Last year we had some of our best performances on street circuits, so I'm optimistic we can perform well on the streets of Albert Park.
"The first race of the season on a track like Melbourne is always a lottery. If any of the front runners stumble, we will be ready to pounce."
Mallya is also delighted to have Sutil back, and is hopeful the German and Di Resta can better the team's best ever finish of sixth, achieved in 2011, this season.
"I am very happy about our driver lineup and I am particularly delighted to welcome Adrian back to the team.
"Over the winter we thought long and hard about the decision, but I'm sure we have made the right choice. Adrian is very quick and has a great history with the team -- he has been with us from the very start and is truly part of the family.
"Adrian and Paul make up the driver pairing that brought us to our best-ever championship result in 2011 and there is no reason why we can't have a similar result this year.
"The VJM06 has shown excellent reliability in winter testing. The rules haven't changed much from 2012 and everyone in the team is confident we can pick up where we left off at the end of last season."