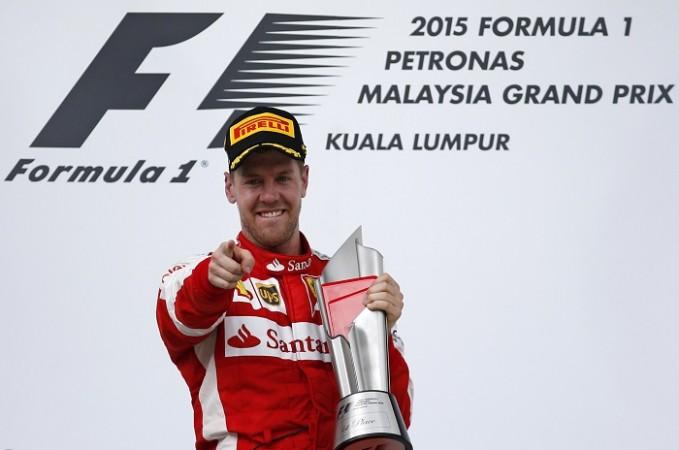 Ferrari driver Sebastian Vettel claimed his first Formula One win since 2013 after beating the Mercedes' duo of Lewis Hamilton and Nico Rosberg with a superb strategic drive at the 2015 Malaysian Grand Prix.
After a dominating performance in the first race of the season at the Australian Grand Prix, Mercedes was again expected to come out on top at the Sepang International Circuit with Hamilton securing pole position on Saturday.
However, Vettel, taking advantage of Ferrari's lower tyre degradation, made use of a two-stop strategy to beat Mercedes.
Although hot conditions and arrival of the safety car at the precise moment played their part, the German drove brilliantly to win in Sepang with a time of 1:41:05.793.
Mercedes' Hamilton and Rosberg finished +8.569s and +12.31s behind the champion to claim second and third places respectively.
Vettel's teammate Kimi Raikkonen meanwhile finished in fourth place despite his car getting punctured on the very first lap.
Williams' duo Valtteri Bottas and Felipe Massa, who seemed to be struggling in the heat, finished fifth and sixth respectively, followed by Torro Rosso drivers Max Verstappen and Carlos Sainz.
Red Bull drivers Daniil Kvyat and Daniel Ricciardo claimed the last two point positions by finishing 9th and 10th respectively.
Vettel, who seemed very emotional after the win, expressed his delight after winning his first race in Ferrari colours.
"A phenomenal day. How does it feel? It feels incredible to see the guys when I looked down from the podium," the former Red Bull driver told ESPN.
"It's incredible to become part of this team, it's something special. It makes me very happy obviously. It's the first win in more than a year now. I missed not only the champagne but the top step in particular."
Meanwhile, Mercedes Executive director Toto Wolff also feels that Ferrari deserved to win this race, insisting that this was a "wake-up" call for his team.
"This is a well-deserved win for Ferrari as much as it hurts from a racers point of view, but maybe this is the wake-up call that we needed," Wolff told Sky Sports F1.
"Hopefully all the nonsense of equalisation stops now. It was a good day for Formula 1, not such a perfect day for Mercedes, but we will come back stronger."
The 43-year-old Austrian insists that Mercedes are now going to work even harder now that Ferrari have proved that they are again going to be strong competitors.
"It is going to make us work harder and concentrate even more. The recovery they have made over the winter is incredible and you have to honour that as a racer."