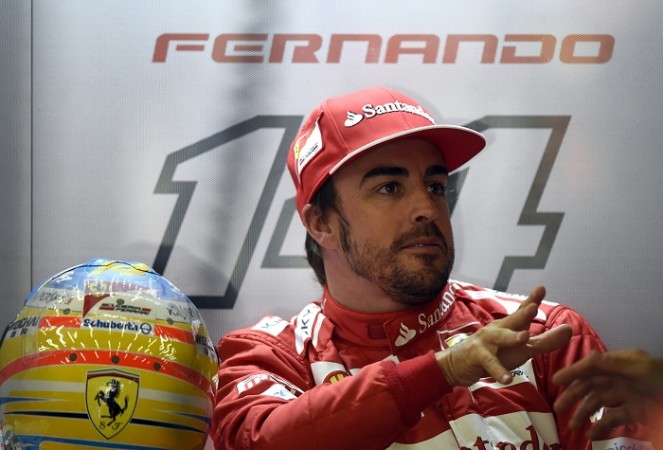 Fernando Alonso might not be too happy with the way this Formula One season has panned out, but the Spaniard has no doubts over the fact that he will still be a Ferrari driver come next year.
Speculation has been rife over Alonso's future with the Italian team, with the iconic red cars seriously struggling to compete with the likes of Mercedes, the runaway leaders, and Red Bull.
Much was expected from the Ferrari team after they signed up former world champion Kimi Raikkonen to team up with two-time champ Alonso, but results on the track have been quit disappointing.
"Our season has been frustrating because we had high hopes with this year's new regulations and, starting from zero with all the other teams, we thought we could have an advantage with all our facilities and input from everybody," Alonso told Sky Sports News.
"But we have found ourselves not in the right position and not competitive. We are further away from the leaders than during any other season this year, we are sometimes one-and-a-half seconds away from Mercedes."
Alonso is someone who always seems to be able to get every single drop out of his car to remain competitive, even if his rivals have far faster drives. However, this season, even that has not been in evidence, and the 33-year-old is clearly not having a great time.
"It has been a tough year," he said. "First, because we are not competitive and also because it is quite boring to drive the car... It is too slow and too heavy and we are not able to have the noise that we used to enjoy."
Due to Ferrari's struggles, Alonso has inevitably been linked with a move to another team, with former team McLaren, even if they might not be having the greatest seasons either, seen as a possibility.
However, Alonso emphatically denied those rumours, insisting he sees his future with the Italian powerhouse.
"It's a year now that I've been saying I want to stay at Ferrari and extend my contract -- that's my wish," Alonso told the Ferrari's official website. "I have a contract for another two years and as I always say on the subject of rumours and to ensure calm, what I want is to continue.
"In fact, we're working on it [renewing his contract].
"Talk of other teams has never come from my lips; in fact it's always been the opposite. It's not nice because it creates a bit of stress and it means it is disruptive for me, the fans and for the people in the team."
For Alonso, being in a team of Ferrari's magnitude is not just about winning, even if matters might be a lot smoother if the Ws started to come.
"Obviously the most important thing is to win, because that's the same for all sportsmen," he added.
"However, I think Ferrari can offer a lot more than only winning -- there is a passion for this team, which as a driver means you are already proud of what you are doing, independent of the results.
"The most important thing is to fix the things that are not going well on the car and in the team and to do everything that is needed."