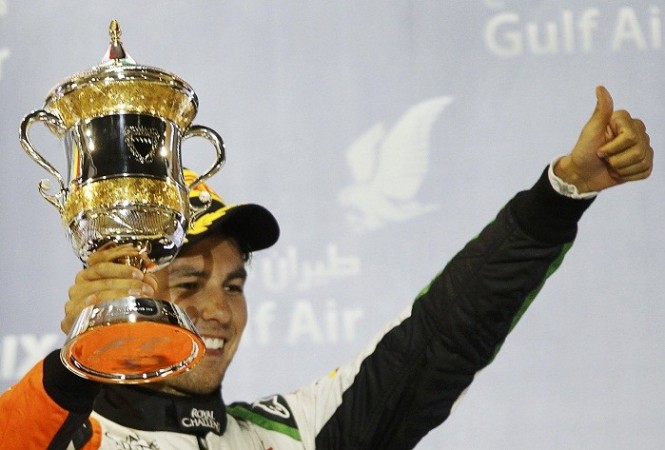 Force India finally achieved a podium finish in five years - only the second ever in the team's history, thanks to Sergio Perez's third-place finish under the Bahrain floodlights in Sakhir circuit.
Giancarlo Fisichella was the one who handed the first podium finish for Force India at the 2009 Belgian Grand Prix. And this time around, while all limelight was in the front with Lewis Hamilton and Mercedes teammate Nico Rosberg racing for a first-place finish, Perez did well enough to draw eyes on his way to secure fourth podium of his career.
"This podium is an amazing achievement and one of the most special results in my whole career," the Mexican said. "It was just an amazing feeling to cross the line."
Mercedes, however, considered no competition from outside the team as there was an intense duel between Hamilton and Rosberg. At the end, it was Hamilton's decisions that proved better as he took victory and recorded the second one-two finish for Mercedes in just over a week after the Malaysian GP.
"It was very, very fair and it was very hard to keep him behind," Hamilton said. "He was very fast on the option tires and I was on the knife-edge the whole time."
On the knife edge, he sure was because Rosberg declared his strong dislike for coming anything but first. "I strongly dislike coming second to Lewis," Rosberg said. "It was the most exciting race I have done in my career."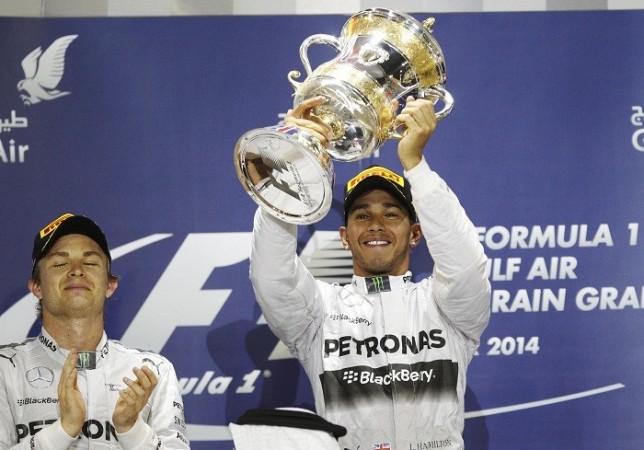 In the constructors' world championship points, Mercedes lead the table with 111 points, while Force India take the second position with 44 points, soon followed by McLaren on 43. In the drivers' standings, Hamilton is 11 points behind Rosberg's 61, despite finishing first and Force India's Nico Hulkenberg's outstanding season and fifth-place finish in Bahrain has put him on number three with 28 points.
Red Bull's Daniel Ricciardo gave a tough fight to Hulkenberg, but the gap became too huge for the Force India car to catch up. Ricciardo went on to give a tough competition to Perez, but could only manage to finish fourth while teammate Sebastian Vettel finished sixth.
"It's a great day for the team and I'm very happy for the guys," Hulkenberg said. "I held back Ricciardo for as long as I could and I managed to stay ahead of Vettel. It's a great achievement for the team and we've shown once again that we are competitive so hopefully we can keep up the momentum in China."
If Force India opted for a two-stop strategy and succeeded, Williams took a beating with three stops as Felipe Massa stood seventh and teammate Valtteri Bottas stood eight.