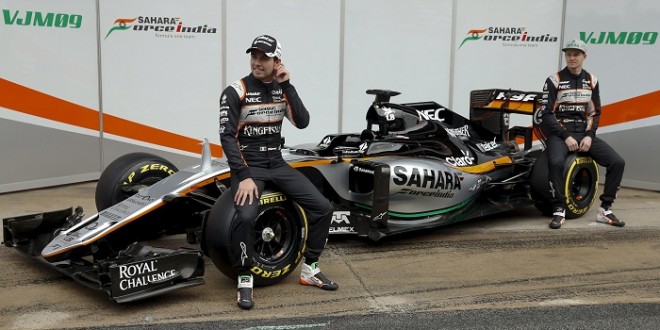 Force India performed splendidly well last season, finishing above teams such as Lotus, Toro Rosso and Sauber. They finished fifth in the constructors' championship and Force India's owner, Vijay Mallya, wants his team to push further in 2016, and look to clinch the fourth spot.
Achieving such a goal this season is not going to be easy, for teams like Lotus and Sauber will be eager to improve upon their last season's performance. They will put pressure on Force India right from the start.
Force India were consistent last time, and they looked sharp in the last few races of the season in Mexico, Brazil and Dubai, accumulating important points. If they can carry such form into the 2016 season, Force India might manage to go past the 200-point mark, which could be enough for a fourth place finish. They scored 136 points last season, with Red Bull fourth, having picked up 187 points.
"Off the back of our best season ever I want us to begin 2016 in the same way that we ended 2015. If you think back to the last race in Abu Dhabi, we were the third fastest team that weekend and took the fight to Ferrari in qualifying and the race," Force India's official website quoted Mallya as saying.
"I'm not saying we can do that in Melbourne, but we set the bar high in 2015 and we should try and push it higher in 2016. At the very least our target must be to maintain fifth place and target fourth place as a stretch objective."
Force India will be pleased to have two talented drivers in the F1 circuit. Sergio Perez and Nico Hulkenberg will be driving for Force India for the third straight year. Perez and Hulkenberg were brilliant last season and much of Force India's success is due to these fierce competitors, who always give it their all.
Perez and Hulkenberg finished the drivers' championship in ninth and tenth positions respectively, with 78 and 58 points last season. With Mallya outlining the team's objective of finishing fourth this season, Perez and Hulkenberg need to hit top gear from the first race in Australia, which starts in March 20.
"I'm very happy with my drivers. They both fit well with our approach and racing philosophy, and they enjoy racing here. We treat our drivers equally; we give them freedom to be themselves, and I think this environment brings out the best from both of them," Mallya said.
"Having two quick drivers has always been our philosophy because it creates healthy competition within the team, which helps to drive us forward. I expect more of the same in 2016."