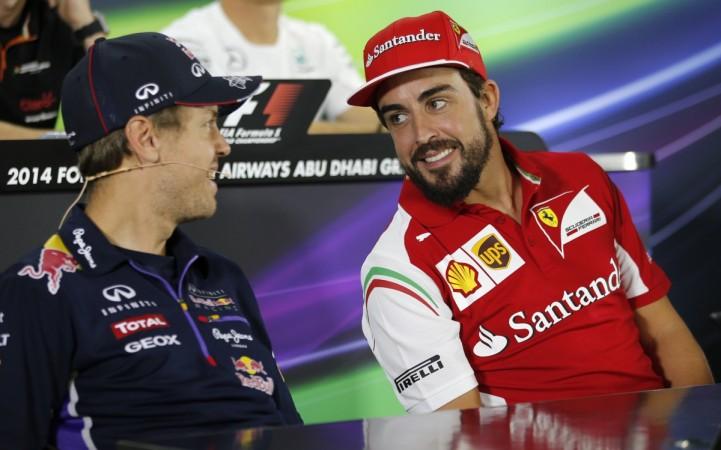 Ferrari have officially confirmed that four-time Formula 1 champion Sebastian Vettel has joined the team on a three-year deal.
The 27-year-old has moved to the Prancing Horse following six successful years with Red Bull.
The announcement came shortly after Ferrari revealed that Fernando Alonso would leave them at the end of the season, ending his five-year stint with the team.
Vettel expressed his excitement to have signed for Ferrari and stated that he always wanted to be in "the red car" driven by his greatest idol and F1 legend Michael Schumacher.
"The next stage of my Formula One career will be spent with Scuderia Ferrari and for me that means the dream of a lifetime has come true. When I was a kid, Michael Schumacher in the red car was my greatest idol and now it's an incredible honour to finally get the chance to drive a Ferrari," the Scuderia Ferrari website quoted the German as saying.
"I already got a small taste of what the Ferrari spirit means, when I took my first win at Monza in 2008, with an engine from the Prancing Horse built in Maranello. The Scuderia has a great tradition in this sport and I am extremely motivated to help the team get back to the top. I will put my heart and soul into making it happen."
Meanwhile, Alonso - who is now expected to join McLaren - thanked the Ferrari team for the five years he spent with the team. The Spaniard pointed out that he had a great run with the Italian outfit, during which they enjoyed three second-place finishes to the season.
"It was a difficult decision to take, but a carefully considered one, and from start to finish, my love for Ferrari was a prime consideration. I leave Scuderia Ferrari after five years, during which I reached my very best level professionally, tackling major challenges that pushed me to find new limits. I also proved to be a true team-player, putting the interests of the Scuderia before my own," the 33-year-old stressed.
"I am very proud of what we have achieved together. Without a shadow of a doubt, these five years produced some of the best moments of my career. I also feel that, in leaving the team, it is family rather than friends I am leaving behind. Now I look to the future with great enthusiasm, knowing that part of my heart will always belong to the Prancing Horse. I want to thank each and everyone of the team for the trust they showed in me."