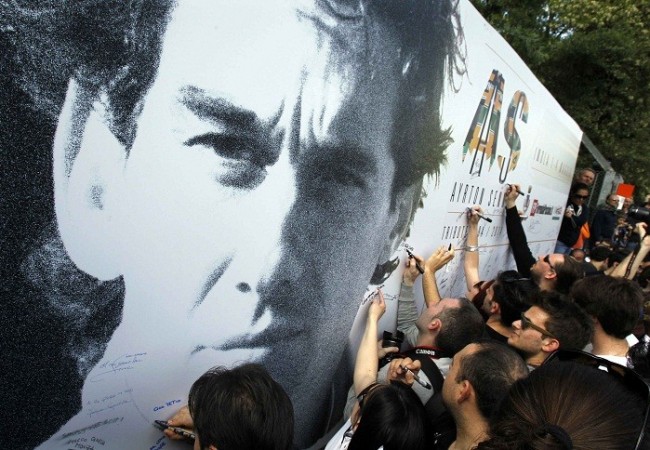 Ruthless, focused and dedicated - that was how the three-time Formula 1 world champion Ayrton Senna was known inside the cockpit. The F1 has seen different world champions, providing a number of wheel-to-wheel battles and iconic moments, but no one can ever top Senna's legacy.
Twenty years ago, Senna endured a fatal crash when his Williams FW16 crashed into the wall of the Tamburello corner of the Imola circuit at 305 kilometers an hour. He was airlifted after giving medical attention on the track to the Bologna's Maggiore Hospital, where he was declared dead.
Senna's death was the second tragedy of the weekend, as a day before, Austrian rookie Roland Ratzenberger crashed in the qualifying. These tragic deaths were last in Formula 1, as they spur a number of changes in safety regulations.
The Imola circuit witnessed a large turnout when F1 drivers and officials with thousands of fans came to pay tribute, where Senna crashed in 1994.
Former Ferrari team principal Stefano Domenicali recalled that tragic moment when the whole circuit was stunned hearing the news of Senna's death.
"I remember the silence of that tragic moment that was all around the city," Domenicali said. "It was unbelievable. At a venue with over 100,000 people watching there was just the noise of the helicopter."
In a ceremony at the Tamburello corner, double world champion and Ferrari driver, Fernando Alonso paid tribute to both Senna and Raztzenberger and said the safety in Formula 1 has improved a lot after that weekend.
"The only positive thing to come out of the weekend that took Ayrton and Roland Ratzenberger away from us was that, from then on, safety in Formula One improved significantly," said Alonso. "In fact, we can say that inside our cars there is something of the legacy of Senna and Raztzenberger, because after that terrible 1994, nothing was ever the same again."
Niki Lauda, the triple would champion and current non-executive chairman of Mercedes team called Senna the most charismatic driver of his time. "He was the best and most charismatic race driver F1 has ever had," said Lauda. "He had personality, he was fast and he had charisma. No wonder that he won everything."
On the 20th anniversary of Senna's death, Lewis Hamilton revealed that Senna had a big impression on his driving style and he feels a connection between him and the Brazilian.
"He made a massive impression on me when I was growing up," said Hamilton. "Senna was just an out-and-out racer that was most important to me. I can really identify with that. It's exactly how I feel I am. That's why I feel I have had that connection with him since I had seen."
Micro-blogging site Twitter has been flooded with tributes and messages for Senna. The Italian Moto GP champion Valentino Rossi tweeted: "an inspiration, and even if 20 years have passed his spirit lives on in all racing riders and drivers."
The battle for complete safety in Formula 1 is never won, but that dark weekend served as the wakeup call in pursuit of making the motorsports safer.