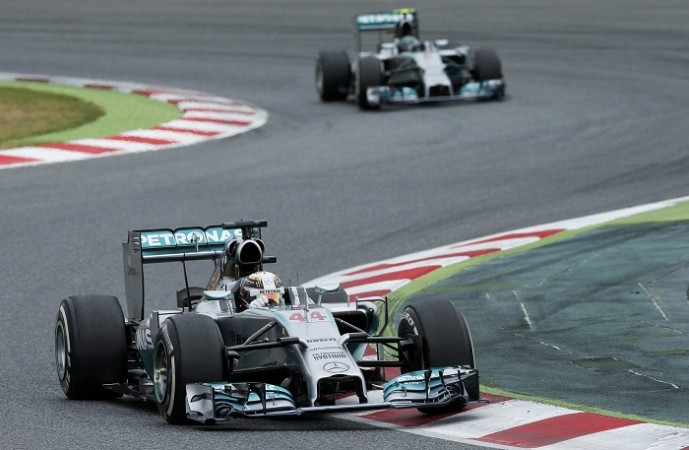 Mercedes completed their fourth one-two finish of the season in the Spanish Grand Prix, with Lewis Hamilton taking the chequered flag once again, just in front of teammate Nico Rosberg.
The battle for the win heated between the Mercedes duo in the final 10 laps as Rosberg finished just 0.6 seconds behind Hamilton at the Circuit de Catalunya. A fourth straight win has given the Brit a narrow three-point lead over his teammate in the drivers' table.
Hamilton finished the race 48 seconds ahead of Red Bull's Daniel Ricciardo, who took the final podium position. The championship leader said he is quite happy to win his first Spanish GP and also pointed out that he has never experienced such a performance gap between him and the rest of the field before.
"It's fantastic to get my first win here after eight attempts and it's really difficult to put that feeling into words right now," Hamilton said. "We have our bosses from Mercedes-Benz here today and it's great for the team that we were able to give them a one-two finish. In all my career, I've never before had a car or a performance gap like this."
Mercedes have won every race of the season till now and Hamilton said the car is looking very competitive but the team should continue the development work as it is a long season.
"I'm just so proud of this team: we are looking very strong and I'm enjoying every moment and every step of the way," the Brit said. "There's still a long way to go this season, though, so we are staying humble, getting our heads down and working hard."
Rosberg, who struggled at the start of the race, said he was close enough to attack Hamilton in the final stint and, if there was one more lap left, he could have won the race.
"The race was so close at the end today and with one more lap, I could have tried to overtake Lewis for the first time," Rosberg said. "My start was bad. It is a weakness that we have and we will try to improve. Once it was clear that I was in second place, we chose to go with the slower strategy using the prime tyres in the middle stint to get a shot at Lewis at the end when I was on the options."
The next race is in Monaco, where Rosberg registered a memorable victory last year, and the German is hopeful of utilising the competitive edge the team has over its rivals at the Circuit de Monaco.
"We have an amazing car and my pace was really strong here so I just need to find an extra little edge to capitalise on," Rosberg said. "The next race is Monaco which is not only my home race but has some great memories from my victory there last year."