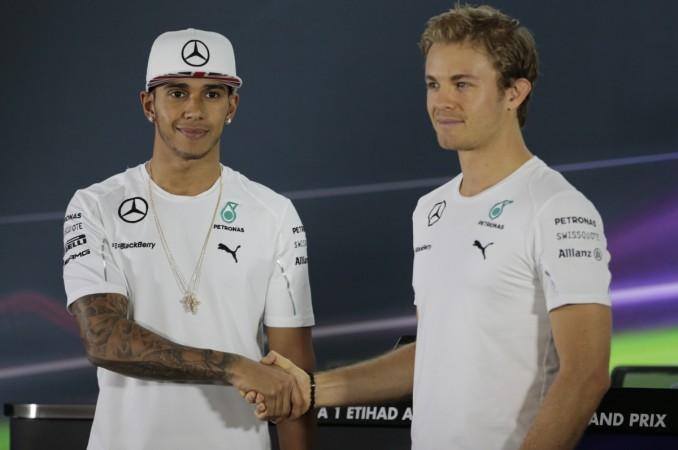 Mercedes driver Nico Rosberg feels that he has nothing to lose when he competes with his teammate Lewis Hamilton for the title in the final Formula One race of the season in the Abu Dhabi Grand Prix.
The 29-year-old German, who is currently in second place in the drivers ranking, 17 points behind leader Hamilton, has a very narrow chance of lifting the 2014 title even if he manages to emerge victorious at the Yas Marina Circuit.
This is because Rosberg despite being handed an advantage by the introduction of the new rule of points to be doubled on the final race of the season, will only clinch the title if he wins the Abu Dhabi Grand Prix and his teammate finishes anywhere lower than the second position.
Still he believes that he has a good chance of winning the title and the pressure is all on his teammate, Hamilton.
"I do believe in it. Yes, I am very optimistic," the German told Formula One's official website. "He [Hamilton] has everything to lose and I have everything to win. That can make all the difference."
The German, who says he is looking to pick up from he left off in Brazil, feels that he is currently at the "peak" of his Formula One career.
"I want to proceed where I left off in Brazil: to win. It is crucial that I win this race. Of course this moment means the peak of my Formula One career - to be fighting for the title. It is indeed a really cool feeling to be here knowing that I could capture the title."
Still Rosberg admits that Hamilton will not be making it easy for him in the Abu Dhabi Grand Prix.
"Lewis is a great competitor and it will hopefully be a great end to the season," Rosberg told the Guardian, adding that he will do his best to put pressure on Hamilton and win the race.
"I'm here to try to win the race and I need a bit of help from Lewis that he doesn't finish second. There are many scenarios and I'm optimistic. In Brazil he made a mistake and I need to do what I can to keep the pressure on."
Meanwhile, Hamilton insists that he is not under any real pressure despite there being a chance of him surrendering the title to his teammate.
"I come into the weekend trying to win the race, like always. So nothing changes. In terms of the pressure, I don't really feel anything. I have been racing for 20 years to prepare for it," the 29-year-old told the Guardian.