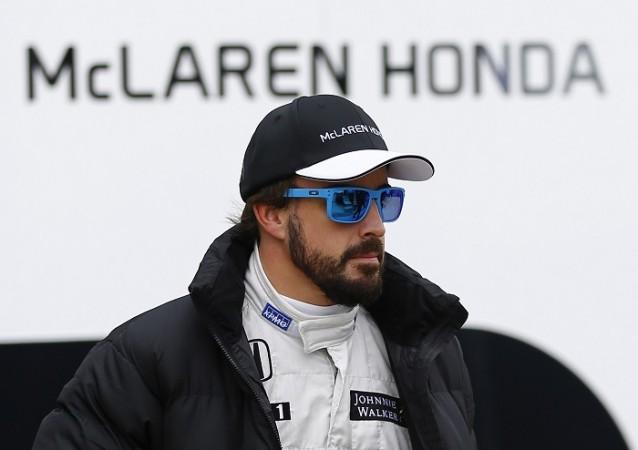 McLaren driver Fernando Alonso claims that the current Formula One cars seem slow when compared to the ones he drove during the early days of his career.
With the introduction of new FIA regulations in the 2014 season, teams have been forced to focus on building turbocharged engines that consume less fuel and use the ERS (energy recovery system).
While the earlier 2.4-litre V8 engines (used from 2006-2013) focused mostly on speed and power, the new 6-litre V6 turbos (introduced from the 2014 season) gives more importance to efficiency.
Due to this reason, not many lap records are being set of late, and Alonso, who returned to McLaren this season after spending four years with Ferrari, seems to have noticed this aspect.
"I think the cars are different, the cars are slower and heavier," Alonso told ESPN. "In China, the pace in the race was 1:43s and in 2004 the pace was 1:33s, so it is 10 seconds difference."
Despite admitting the current cars don't give drivers the "same feelings" as driving the faster cars earlier, the 33-year-old insists that the "DNA of the sport remains the same."
"When you drive 10 seconds slower you don't have the same feelings, but on the other hand the DNA of the sport remains the same, which is competing against the others, beating the others and being cleverer than the others," he added.
"When I go go-karting with friends, I have so much fun and you are doing 50kph, so it doesn't matter how much quicker or slower you are, you just enjoy the competition. In terms of pure Formula One feelings, of course as a driver we are very slow at the moment."
Finally, the Spaniard admits that drivers do not have much power to influence the regulations due to teams and manufacturers having more authority.
"It is tough, it is difficult," he added. "As a driver, you're in a position to ask for many things but I think there is so many interests, so many businesses in the sport and manufacturers involved, they are more powerful than any driver's opinion. You enjoy driving even go-karts, so it just a matter of trying to win."