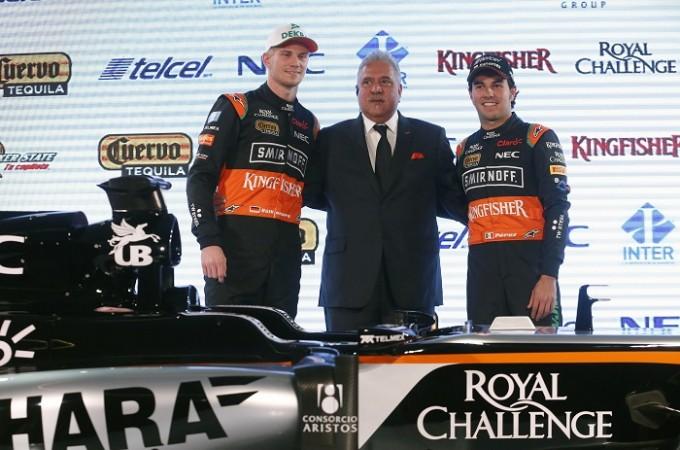 Force India owner Vijay Mallya admits that his team are slightly unprepared ahead of the new Formula One season due to their disruptions in the pre-season.
Although they were the first team to revel their new Mercedes powered VJM08 car for the 2015 season, the Silverstone-based outfit were only able to participate in the final pre-season tests in Barcelona due to them facing some financial difficulties in the winter.
And now Mallya admits that his team have some catching up to do before the start of the new season.
"It's no secret that we have faced some delays and challenges over the winter," Mallya told F1's official website. "In terms of mileage we are clearly behind the other teams so there is some ground to make up. Equally, the performance work we could do in [the final pre-season test at] Barcelona was quite limited."
The Indian millionaire despite admitting that his team still do not know where they are in "terms of competitiveness," insists that Force India will be giving their best shot in the 2015 F1 season opener in Melbourne.
"As for our hopes in Melbourne, it's difficult to make a prediction - until we run in qualifying trim and race conditions it's hard to know where we are in terms of competitiveness. What I do know is that we will give it our best shot to come away with a result."
The 59-year-old, however, says he was impressed by the car's performances in Barcelona.
"When the VJM08 appeared in Barcelona it ran reliably from the very first moment and didn't miss a beat during its 365 laps," added Mallya. "To deliver such a solid performance out of the box was a fantastic achievement from everyone in the team and will stand us in good stead for the first race."
Meanwhile, Force One driver Nico Hulkenberg, who finished sixth in the Australian Grand Prix in 2014, says he is keen to find out how the new car compares to its rivals this season.
"The first race of the season is always a special occasion: a race you really look forward to for a long time," the 27-year-old German told F1's official website. "As a driver, the first race is very interesting - you have a new car to push to the limit in race conditions for the first time, [and] we are as curious as anybody to see where everyone really is compared to the others."