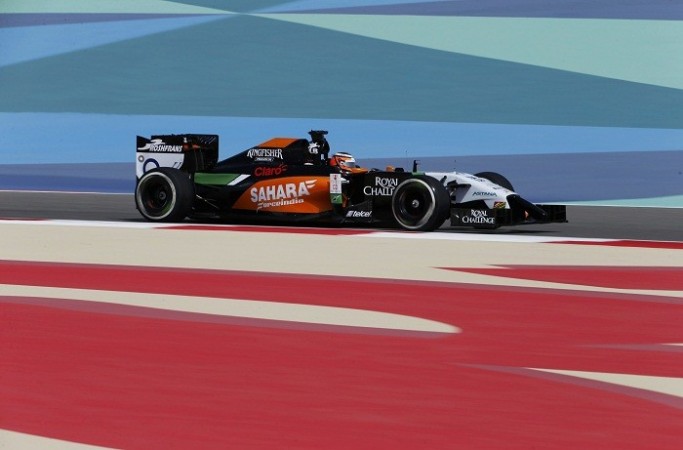 Bahrain GP gave Force India the push they needed - a podium finish, only the second in the team's history. Now, moving on to China, they hope the fine run of form continues.
Sergio Perez's third place finish in Bahrain put Force India on the podium for the first time since 2009. Teammate Nico Hulkenberg finished fifth to push Force India to second spot in the constructor's championship, only behind early leaders Mercedes.
Team principal Vijay Mallya is confident that the Bahrain show was only the first of many this season. "We've shown in the first few races that we have produced a competitive car," Mallya said. "Bahrain was not just a one-off and we've been improving with each race.
"I was very pleased to finally achieve that elusive podium. We've been close a few times in the last few years, but everything came together perfectly in Bahrain. I think it's a reflection of the talent and the passion of this team, and the fact that we have excellent teamwork. There's a great amount of dedication in all areas of the company and a single purpose in mind for everyone."
A podium finish in China would keep the hopes high in the team. Speaking of hopes, Perez said he is looking forward to continuing the good run.
"To get the podium in Bahrain was great - it's a great result for this team and a big boost of confidence for me," the Mexican stressed. "The target is to move on, keep improving and target more podiums.
"Bahrain was the first real opportunity I had to develop the car through the weekend without any issues so it felt like my season really started there. Now we need to think about how we can do better in China. At the same time we must not get carried away because we know how competitive Formula One is and how things can change very quickly."
Hulkenberg too shared Perez's opinion on the race and the season. He said he would put his best foot forward in China.
"We've shown we have a good package and we have the hunger to keep fighting at the front," the German said. "We've performed well at all the tracks so far and they all had very different characteristics. So we can feel positive that the car will perform quite well in China. We are going there after the test in Bahrain and hopefully we can bring some more performance too. So I think we can aim for another competitive weekend and come away with some more points."
Mercedes lead the constructors' table with 111 points, while Force India take second position with 44 points, soon followed by McLaren on 43. In the drivers' standings, Hamilton is 11 points behind Rosberg's 61. Force India's Hulkenberg's outstanding start to the season and fifth-place finish in Bahrain has put him at number three with 28 points.
(Ed: VP)