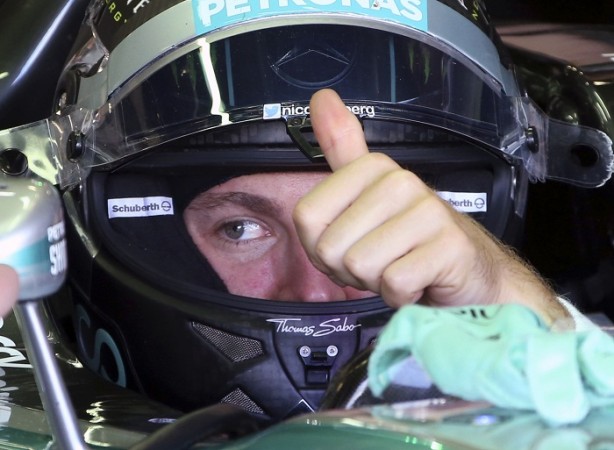 Mercedes are heading into their home grand prix as favourites, with German Nico Rosberg aiming to strengthen his grip on the championship after allowing Lewis Hamilton a way back into the standings in Silverstone.
Hamilton has reduced the championship deficit to just four points after winning the British GP, when Rosberg was forced to retire because of a gearbox issue.
Rosberg, who has recently signed a new multi-year deal with the Silver Arrows, understands that it is a big weekend for him and a result here could prove decisive in his championship quest. So, he is sighting no less than a win at Hockenheim.
"I really look forward to driving here," Rosberg said. "I'm here to win, of course. I'm here to try to extend the championship leads. That's where it ends for me. I'm really just looking at the moment, taking it race by race."
Meanwhile, Ferrari's Kimi Raikkonen after enduring a horrific crash in the opening stages of the British GP insisted that he has completely recovered from the incident.
Ferrari is not having the greatest of seasons as they are third in the championship with just 106 points.
Raikkonen said that it has been a difficult year for Ferrari so far but is confident that the Maranello-based outfit will be able to turn the tide in the forthcoming races.
"We've been in every race at least," Raikkonen said. "That's what you expect at least. It's been a difficult year, hopefully it will turn around at some point - it must, it cannot go much longer like this, it's not fun.
"But this kind of thing has happened to me before and we always managed to turn it around, so I have a strong belief it will turn around. We have to just fix issues and get things as I want and I'm sure we can be back where we should be."
'Fric' suspension was a point of discussion in the F1 paddock this week, as it could violate FIA technical regulations, with teams deciding to drop the controversial system for the German GP,
Reigning world champion Sebastian Vettel is hopeful that the move will cut Mercedes' advantage and bring the field closer.
"Well I said it is one of the things that obviously got banned now," Vettel said. "I hope it brings the field closer to Mercedes but it's difficult to say. All of the teams have been playing with it to some extent.
"How much it has an impact? I think it has to be seen this weekend and also probably next week in Hungary. After those two races I think you can have another judgement."
Where to Watch Live:
First Friday Practice Session: 10:00 am local time, 1:30 pm IST, 8:00 am GMT
Second Friday Practice Session: 2:00 pm local time, 5:30 pm IST, 12:00 pm GMT
Final Practice Session (Saturday): 10:00 am local time, 2:30 pm IST, 9:00 am GMT
| | |
| --- | --- |
| Country | TV Broadcaster |
| India | Star Sports 4, Star Sports HD2 |
| US | NBC (Practice 2) |
| Canada | TSN 2 (Practice 2) |
| United Kingdom | BBC, Sky Sports |
| Middle East and North Africa | Bein Sports Arabia |
| Germany, Italy | Sky Sport |
| France | Canal+ |
| Asia | Fox Sports |