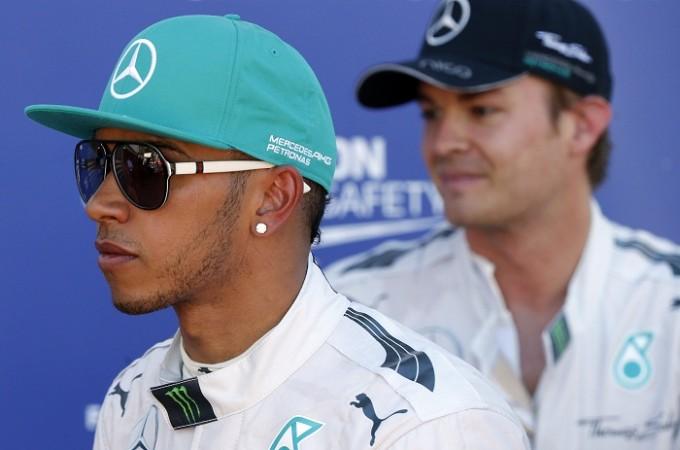 Championship leader Nico Rosberg believes his teammate Lewis Hamilton is at the top of his game and it was important to break his winning momentum in the Monaco GP.
Rosberg won the Monaco GP to continue Mercedes' domination in the season, as the Silver Arrows have won all six races of the season so far with five consecutive one-two finishes. The German is currently leading the championship with 122 points, three points clear of Hamilton.
"He has been on top of his game so it was important for me to break his momentum last weekend," Rosberg said. "I now have the lead again in the World Championship which is great. But it's still very early days and it's going to continue to be an extremely tight battle between us this year."
The next race is at Circuit Gilles-Villeneuve in Montreal and Rosberg said he is looking forward to drive in one of his favourite tracks. The 28-year-old added he is aiming to keep the winning momentum going in this weekend's Canadian Grand Prix.
"It's a beautiful but also crazy city where there is always a lot happening: particularly in the evenings," he said. "It's a great place to celebrate a good result, shall we say! That's what I'll be aiming for again this weekend."
Hamilton, who finished second in the Monaco GP, said it was unfortunate he could not to win the race, while insisting he is determined to perform well in Montreal.
"I race to win every time and unfortunately it just wasn't my weekend," Hamilton said. "But I drove with all my heart and gave it all I could, so I head to the next race with even more energy and determination."
Hamilton has won the Canadian GP thrice and last year he clinched the final podium position after starting the race from P2. The Brit said he is looking forward to driving in Montreal.
"Montreal is one of my favourite weekends of the year," he said. "It's where I won my first Grand Prix back in 2007 and I've had another two victories there since, so it holds some special memories for me. The city itself is incredible. It's one I always love to go to and there's always a great crowd, so I'm hoping for them that the weather is good and we can put on a great show!"
Mercedes' executive director Toto Wolff said both their drivers are in prime form and the team is confident of another strong performance.
"Lewis has a fantastic track record in Canada and Nico has the momentum from his win in Monaco," Wolff said. "We are all looking forward to the next chapter in the story of this season."
Mercedes technical director Paddy Lowe said there are a few updates lined up for Canada and it is going to be an interesting weekend for the team.
"As always this will of course depend on the team providing a good package and equally strong reliability," Lowe said. "We will be bringing a number of updates to the car, both on the power unit and aerodynamic side, so it should be an interesting weekend."