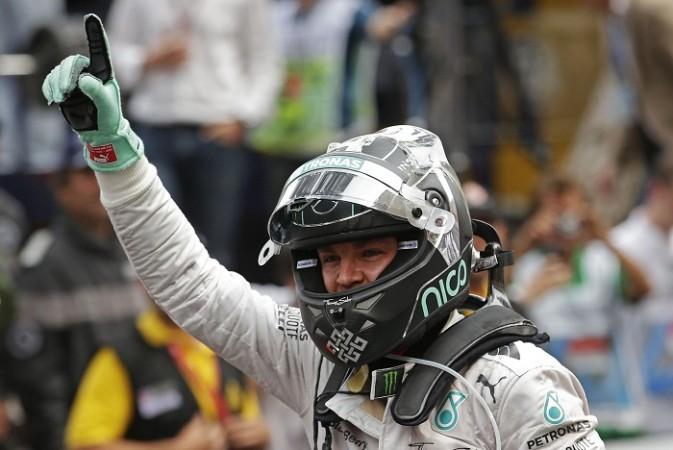 German Nico Rosberg after starting from the pole position managed to clinch his second win in Monaco, to regain the championship lead followed by British Lewis Hamilton, as Mercedes completed yet another 1-2 finish and continued the winning momentum in the Monaco GP.
Hamilton persistently challenged Rosberg, but the German finally managed to finish the race 9.2 seconds ahead of the Brit. The former world champion struggled with his vision after dirt got into his eyes in lap 65 and the Red Bull's Daniel Ricciardo closed gap on him.
The German said it was a happy end to a tough weekend for the team and everyone did a fantastic job. He added that it was important to break Hamilton's winning momentum and everything worked out quite well in the race.
"It was important for me to break Lewis' momentum of winning the last four races this weekend," Rosberg said. "That worked out very well, but it was a really tough weekend. I'm so happy for the team that we had another one-two finish and look forward to the party tonight!"
Rosberg got the controversial pole in the Principality, after he locked his rear tyres and went on the escape road at the Mirabeau to bring out yellow flags in the dying moments of Q3. Hamilton has allegedly accused Rosberg of deliberately halting his final run, but the German was cleared by stewards of any wrongdoing.
Hamilton was clearly not happy with the result after the race and insisted he could have had a better finish in Monaco. He said the car felt strong in the whole weekend and he is happy that the team enjoyed yet another perfect weekend.
"Towards the end, I got some dirt in my eye through the visor which made it very tough for a few laps but thankfully it cleared up and I was able to hold off Daniel and keep second place," Hamilton said.
"This hasn't been the greatest of weekends but I'll go into the next race with even more energy and determination," he said. "The team are working so hard and we're determined to keep the momentum going."
Throughout the Monaco GP weekend there were reports of a potential rift between the Mercedes duo. However, Mercedes executive director Toto Wolff insisted there is no tension between his drivers as both are championship contenders and probably trying to explore "how far they can step" above the line.
"Isn't that normal? You have a chance of winning the championship and as long as it is not detrimental to the team spirit, as long as it is not underhand, we will handle the situation in the way we did before," Wolf said.