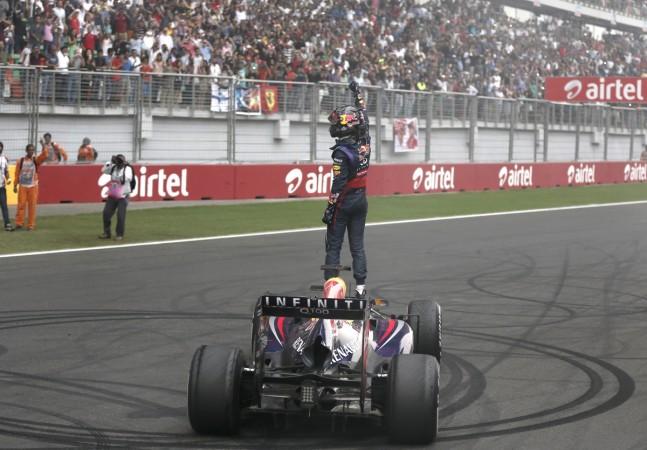 The Indian Grand Prix is likely to return in 2016, it has been revealed, after a meeting between Formula 1 chief executive Bernie Ecclestone and race promoters in the country went well.
The meeting was held during the inaugural Russian Grand Prix in Sochi last month. The Buddh International Circuit in Greater Noida is now ready to make a comeback to the high-profile event in the 2016 season.
The Indian Grand Prix, which made its debut in the 2011 season, was dropped from the 2014 calendar - after three consecutive and successful seasons - owing to tax and bureaucratic issues.
Earlier this year, Ecclestone also ruled out the India Grand Prix happening in 2015, much to the disappointment of Formula 1 fans in the country. There were also concerns regarding whether the competition will come back to India in the near future.
However, it has now emerged that the Ecclestone-led Formula One Management (FOM) and race promoters Jaypee Sports International (JPSI), headed by Sameer Gaur, are keen on honouring the five-year contract they initially signed, though questions on the long-term future of the Indian Grand Prix is still a worry.
"We (Gaur and I) had a good meeting in Russia. I was assured that the tax and other related problems will be sorted out in due course and then we are good to go back. It is too late for 2015 now, so we are working on 2016," PTI quoted Ecclestone as saying.
Gaur also expressed his delight after the meeting with Ecclestone ended on a positive note.
"Formula 1 remains very important for us. Unfortunately, because of the circumstances we could not do the race this year but I see the situation improving soon. The important thing is that we and FOM are on the same page. 2015 looks tough as the calendar is more or less final, so we should look at 2016 as the year for the race," he pointed out.
Reigning world champion Sebastian Vettel has won all three Grand Prix held at the Buddh International Circuit since its inception.