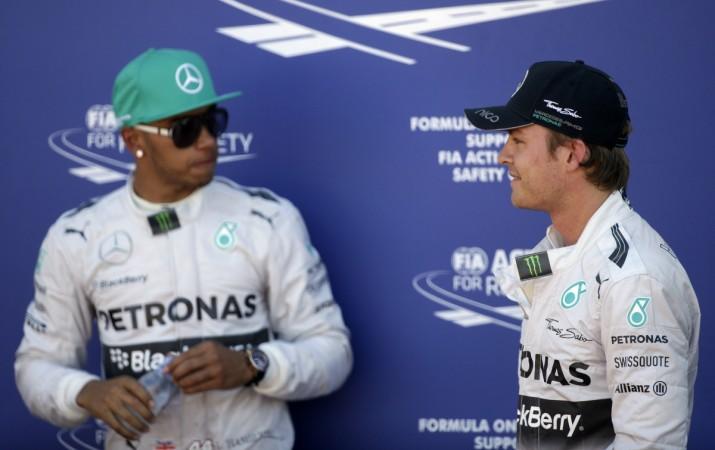 The on-track rivalry between Lewis Hamilton and Nico Rosberg has made quite a lot of headlines in recent races, but Mercedes team boss Toto Wolff has insisted that the competition between his two drivers has not gone out of hand.
The rift between Hamilton and Rosberg occurred during the Monaco Grand Prix, when the latter lost control of his car at Mirabeau corner in qualifying. Hamilton had to go through his flying lap due to yellow flags and started behind his teammate.
There was tension in the Mercedes' garage once again in the Hungarian Grand Prix, when Hamilton was asked to let Rosberg pass. The Brit refused to allow his teammate and championship rival pass, saying that if Rosberg "gets close enough to overtake, he can overtake".
Hamilton, after the race, openly showed his displeasure over the incident and Mercedes insisted that they will investigate why the team orders were give at Hungaroring.
Wolff stressed that the championship battle between Hamilton and Rosberg will intensify, but is confident that it will not go over the line.
"Until now it has functioned really well," Wolff told Formula One's official website. "Could it come to a point where we say it is difficult to manage? It could be, but I don't see it - not with the two of them.
"They push each other to new levels, to new heights, in a way that is not detrimental to the team. Yes, potentially it is going to get more heated.
"But, if we carry on in performing as we do now, I am still carefully optimistic that it is only up to the two of them in fighting for the World Championship."
Mercedes are leading both drivers' and constructors' championship and have dominated the season thus far. The Silver Arrows have won nine out of the twelve races and are 174 points clear of nearest rivals Red Bull Racing team.
Wolff said after an incredible start to the season, they will have to remain cautious of a challenge from other teams, such as Williams and Red Bull as they have closed the gap.
"Teams will be catching up," Wolff said. "As I said before I think we had a very good start to the season, and did more kilometres than others, but eventually they will make that up.
"We were not good enough in Austria, and Williams were very good, and you see how quickly it goes. You have a strong competitor suddenly."
The next race is slated to take place at Spa-Francorchamps, Belgium on 24 August.