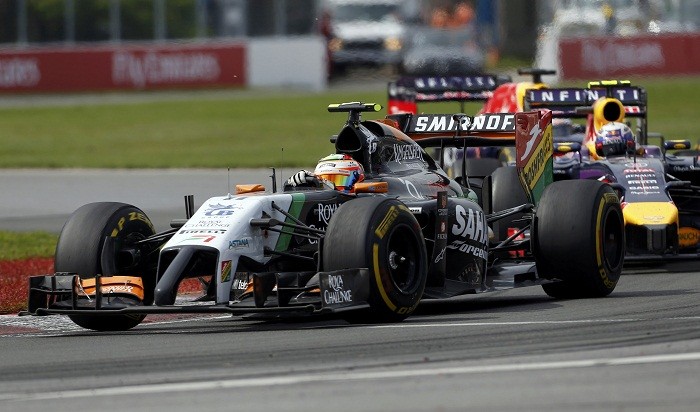 Force India deputy team principal Bob Fernley insists that the team is competing with Ferrari for third place in the constructors' championship this year.
The Silverstone-based outfit has been impressive with its consistency this season and is currently fourth in the championship, 11 points behind the Prancing Horse.
The Vijay Mallya co-owned outfit operates at a cost of 100 million pounds, which is half the amount spent by Ferrari and reigning world champions Red Bull last year.
Fernely pointed out that teams like Force India and Williams have showed that they can compete against top teams with limited resources.
"We are competing consistently against a team like Ferrari, which operates on a budget more than half of what we use," Fernley told PTI. "It goes to show that the smaller teams can compete against the top teams."
Force India has scored points in each of the eight races so far this season, including a third place finish in the Bahrain Grand Prix. But Fernely claims it is difficult to compete with big teams consistently and stressed on the need of putting a budget cap.
"However, with so much disparity in the budgets, it is tough to be competitive against big teams in the long-run," Fernley said. "That is why we feel it is high time F1 had a cost cap. The sport should be about intellectual ability rather than spending endlessly to be fast. A cost cap is important for the overall health of the sport."
The motorsports governing body, FIA, has removed the cost cap from 2015 onwards, which will allow big teams like Ferrari, McLaren and Red Bull to deploy endless resources to remain competitive. And the Force India boss believes it will become difficult for smaller teams to survive in that scenario.
"Well you can survive in the current scenario but it is difficult to be competitive," Fernley said. "Three-four teams spending significantly more than the others will perform better in the long-run."
Meanwhile, Force India's Mexican driver Sergio Perez is hopeful of remaining competitive in this weekend's British Grand Prix.
"It's a track I enjoy and I usually go well there," Perez stated. "We have been performing solidly on every track so far and I see no reason we can't put in a similar performance this weekend. It's also the team's local race so this adds an extra motivation for us to do well."