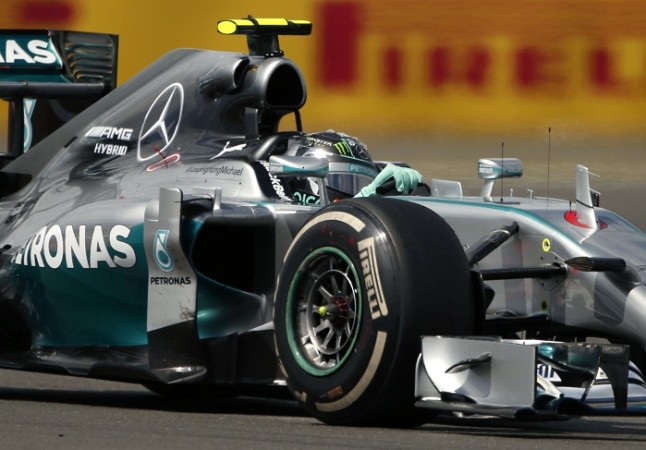 Mercedes Formula 1 team that has dominated the season by winning eight out of the nine races is expected to lose a huge competitive edge over its rivals in the upcoming German Grand Prix.
The Silver Arrows will remove their complex active suspension system - commonly known as 'Fric' - for Hockenheim next week.
The motorsports governing body FIA surprised everyone by stating that the active suspension system could be illegal as it breaks the regulations of not having moveable aerodynamic devices in the cars.
Most F1 cars have some sort of 'Fric' system in their cars, but Mercedes and Red Bull are said to have developed the most effective system and are expected to lose considerable advantage in the forthcoming Grand Prix.
The Motorsports governing body has not banned the system, but FIA technical director Charlie Whiting has warned that teams can lodge complaints, which can be upheld by race stewards.
This move opened doors for teams like Ferrari, Caterham and McLaren to lodge complaints against Mercedes, so the German manufacturer decided to drop the system for the upcoming race.
The 'Fric' technology, which was first developed by the Lotus team, links the four suspensions with a hydraulic and is been used by the teams for more than couple of years, due to which the move has come as a shock to many.
"It came as a surprise. It's not based on any team action," McLaren team boss Eric Boullier said. "It's an FIA action."
Mercedes team chairman Niki Lauda was also amongst the F1 figures that were surprised with the move. The former World Champion said it is difficult to understand what instigated the move and asked FIA to clear its stand on the hydraulic system.
"The system has been used for two and a half years and all technical inspections have occurred without objection," Lauda said. "So it is difficult to understand why suddenly the perspective has changed."
"We don't want to invest any more in something that is against the rules," he added. "We want to know whether it is legal or illegal."
Mercedes' Lewis Hamilton finished the Silverstone in-season test on fifth and made no comments about how his car reacted without the system. However, Max Chilton, whose Marussia also uses the same system insisted that there was not much difference in the performance of his car.
Meanwhile, reigning World Champion Sebastian Vettel admitted that the Silver Arrows will lose advantage over their rivals but pointed out that they have built a considerable lead in championship, so they not in trouble.
"After what the FIA has said, I can surmise that some cars will be more affected than others if there are any possible changes," Vettel said. "Mercedes may have to give up some of its advantage but the gap to the chasing pack is so big that the Silver Arrows is not in trouble. Especially as Red Bull has a similarly good system."