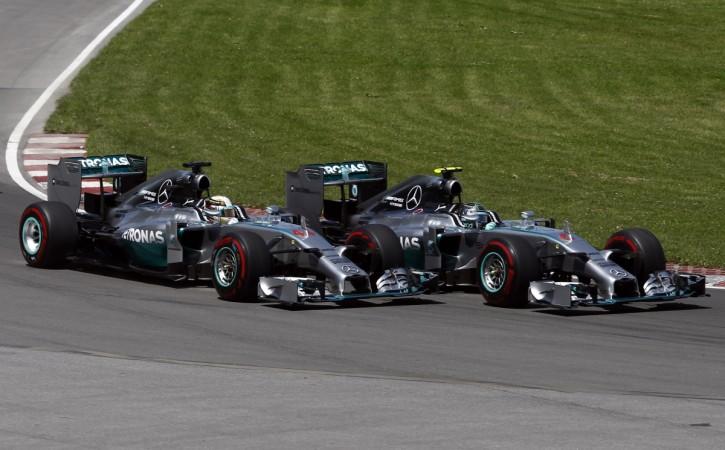 Mercedes duo - Nico Rosberg and Lewis Hamilton - after an eventful Hungarian Grand Prix, are set to resume their title battle in this weekend's Formula One Belgium Grand Prix.
Championship leader Rosberg, after starting the last race from pole position, finished outside the top-three, while his teammate Hamilton charged down the field to clinch the final podium position.
Rosberg's strategy was affected by Hamilton's refusal to let him pass, despite getting instructions from the pit wall. The German insisted that he is happy to still be in the championship lead, after a tricky outing in the last grand prix.
"The last race didn't turn out how I had hoped after taking pole in tricky conditions the day before, but I still managed to come away with my championship lead intact and that's a good place to be heading into the next part of the year," Rosberg said.
Rosberg, despite finishing behind his teammate at Hungaroring, is still leading the drivers' championship by 11 points. The 29-year-old is expecting the championship battle with Hamilton to go down to the wire and said that every point is crucial in last eight races.
"The battle with Lewis has been so close all season - and it could well stay that way right up to the final race - so every last point will be crucial in that contest too," he added. "Next up, of course, we have Belgium, which is definitely one of the most spectacular races of the year."
Meanwhile, Hamilton is also expecting an intense battle with Rosberg in the remaining races. The Brit pointed out that competing against Rosberg is completely different, as he also has access to the same data and feedback from the team.
"The battle does feel a lot more intense this year," Hamilton said. "When I was racing against Kimi Raikkonen [in 2007] and Felipe Massa [in 2008], they were in a different team and their cars had different strengths and weaknesses to my car."
In last two races in Germany and Hungary, the former world champion faced reliability issues in qualifying but still managed to finish on the podium, and with it not allowing Rosberg to race away in the driver's championship standings.
"The aim is to put the more difficult times of some of the previous weekends behind us and to recreate the best moments at every race from now on," Hamilton said. "I love driving at Spa, so there are few better places to start.
"I had good results there in 2008 and on my first visit to the circuit with this team last year, plus the win in 2010 of course. I haven't won there as many times as I'd like but that win was a really special one, so I really want to add to that and that's definitely the target this weekend."