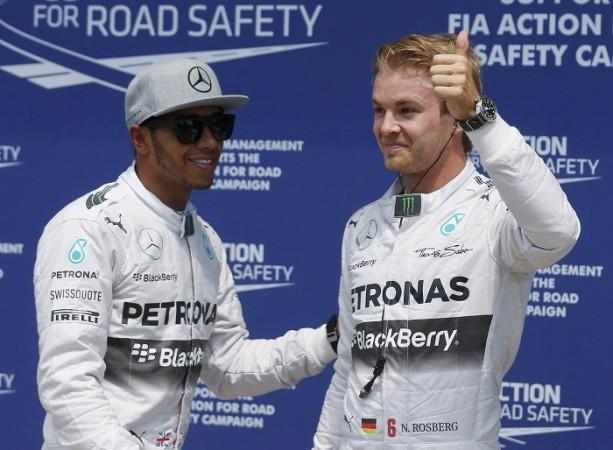 Nico Rosberg clinched the pole position from teammate Lewis Hamilton by just 0.079 seconds at the Canadian Grand Prix as Mercedes continued their domination this season, by locking the front row of the grid at the Circuit Gilles-Villeneuve.
Ferrari showed improvement in the practice sessions but was not even close as Fernando Alonso managed only P7, while Kimi Raikkonen settled for P10. Sebastian Vettel of Red Bull did challenge the Mercedes duo but he was only third fastest.
However, the Williams duo threw a surprise by outpacing both Ferraris and a Red Bull. Valtteri Bottas and Felipe Massa were fourth and fifth respectively, and gave the frontrunners a run for their money. Vettel was relived after finishing third and pointed out how competitive the field is at the moment.
"I think it was the maximum we could do, very close with the people behind, obviously half a second to the Mercedes in front," said Vettel. "I think four cars were within five or six hundredths of a second, so obviously I'm happy to be the quickest one of those."
Daniel Ricciardo, in the second Red Bull, was the sixth fastest, followed by Alonso and Jean-Eric Vergne in the Torro Rosso. Jenson Button was the faster of the two McLarens and will start the Grand Prix at ninth, ahead of Ferrari's Raikkonen who completed the top 10 places.
Button's teammate Kevin Magnussen finished behind Force India's Nico Hulkenberg on P12, followed by Sergio Perez in the second Force India. Hulkenberg, who just missed out on Q3, is optimistic about his pace and stated he would have flexibility in choosing the strategy for the race.
"I was close to making the top ten - just half a tenth would have made the difference, but I think we've known since yesterday it was going to be quite tight in qualifying," Hulkenberg said. "Having said that, P11 is a good starting position it gives us some flexibility in terms of the strategy; I get to choose my starting tyres, and I'm feeling quite optimistic about our race pace."
Marcus Ericsson was the only casualty of the session when his Caterham went into the wall at Turn 9 to bring out red flags. With just 20 seconds remaining in Q1, the rest of the field failed to make any improvement in their time.
"I was still having tyre warm-up problems on both runs but the performance had improved a little from the morning session so I could push a bit harder," Ericsson pointed out. "Unfortunately on my last flying lap I lost the back of the car in turn nine coming up behind a couple of other cars and made contact with the wall, ending my qualifying."
Sauber's Esteban Gutierrez missed out the qualifying session and will start the race from the pitlane. He crashed his C33 in the final practice session and sustained chassis damage, which kept him out of qualifying.