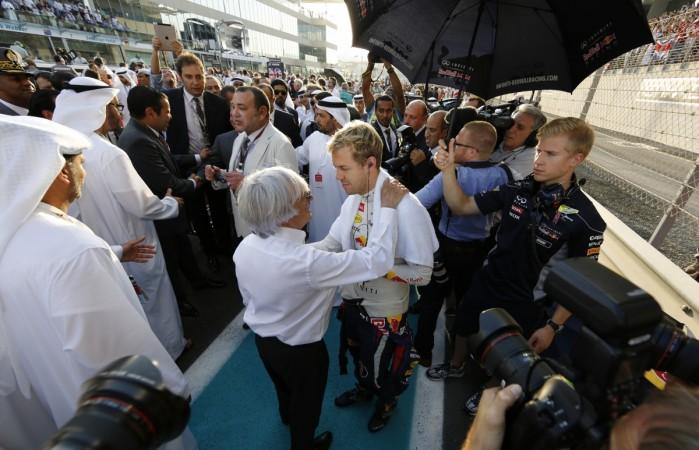 Formula 1 chief executive Bernie Ecclestone has criticised Sebastian Vettel and Fernando Alonso for their attitude on track this year.
Vettel, who entered the season as a four-time champion on the trot with Red Bull, was pushed on to the backfoot straightway, partly due to the uncompetitive Renault V6 turbo hybrid engine the Austrian outfit used in their cars this year.
The German looked low on morale and confidence throughout the season and finally ended the campaign without a win, after dominating the previous four championships, while his teammate Daniel Ricciardo won three races in his Red Bull debut season.
The 27-year-old eventually left Red Bull, ending his five-year association with the team, and joined rivals Ferrari, replacing Alonso.
Ecclestone, who is a good friend of Vettel, has now stated that he has been disappointed with the driver for the way he reacted to his failures this year as it does not suit a champion.
"I'm a super supporter of Sebastian, but I'm a little bit disappointed with his attitude, which I think has changed," the 84-year-old wrote in the foreword to the official Formula 1 season review.
"He's acting like a defeated guy, and he isn't - that's not his mentality."
Ecclestone pointed out that he was not happy with Alonso's attitude this season as well. The Spaniard also failed to win a race this year, like Vettel, and left Ferrari at the end of the season, and is now heavily linked with a move back to McLaren.
"Ferrari was very disappointing, getting lost somewhere. Fernando got a little bit like Sebastian halfway through, so I'm a little bit disappointed in him, too."
Ecclestone also stressed that he was happy and relieved that Mercedes allowed Lewis Hamilton and Nico Rosberg to fight for the title, and not insisting one of them to remain as no.2.
"We've been extremely lucky with what happened, these two guys have been racing each other and it's good that Mercedes has allowed them to do that. If not, we would have had a really lousy championship," the Brit added.
"If we hadn't been lucky with Nico and Lewis racing each other and one of them had got away and been dominant, the season would have been over by Silverstone."