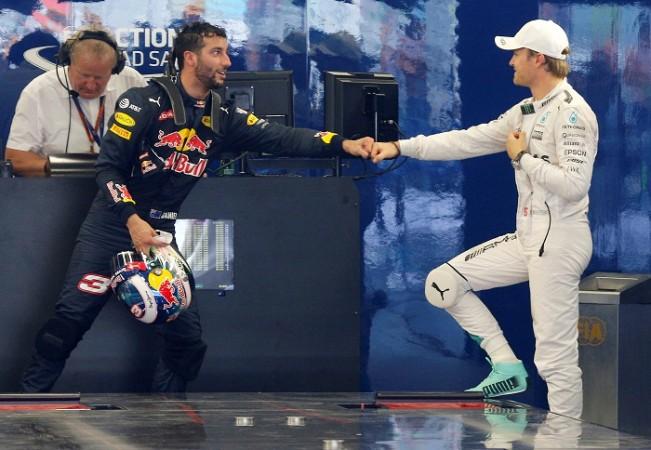 Mercedes' Nico Rosberg will start the European Grand Prix on Sunday in pole position after finishing fastest in qualifying. Force India's Sergio Perez looked in stupendous form, being the second-fastest, but the Mexican driver will not be in the front row of the grid as he will drop five places for the European Grand Prix due to gearbox change penalty.
Rosberg's teammate Lewis Hamilton will have a lot of ground to cover as he will start the race at the 10th place after a below-par performance in the qualifying session. Rosberg, who has looked in complete control of his car, will be strongly challenged by Red Bull's Daniel Ricciardo and Ferrari's Sabastian Vettel.
The way things have gone so far in the European Grand Prix, it will come as no surprise if Rosberg wins his fifth race of the season, and further increase his lead at the top.
The European Grand Prix could be one of the most interesting F1 races of the season, with drivers getting a chance to overtake in the circuit, so Rosberg will have to be careful with drivers in the top half of the pack, and the German believes Ricciardo, Vettel and Hamilton will be a huge threat to him.
"We've seen one of the most exciting qualifying sessions for a long time. Also, the race I'm sure is going to be very exciting. It's one of the easiest tracks to overtake, so there's going to be a lot of changing places I think, probably a lot of safety cars as well, exciting re-starts and everything, so it should be a good show," F1's official website quoted Rosberg as saying.
"Of course it's going to be Daniel, Sebastian, Kimi and then Lewis. Never forget him. He can always come back from tenths as he's shown very often this year."
One is rest assured that Ricciardo will give his best and be keen to win his first race of the season. Besides Mercedes, it is Red Bull that has been one of the best teams in the season.
Ricciardo will be lucky to start the race in second position after Perez's penalty. The Force India driver was disappointed to start the race in seventh position.
"I'm still angry from the mistake this morning but I'm very happy On this track it is so easy to make a mistake and damage your car. It happened to me at the worst possible time in FP3. With the penalty I'm starting seventh — the team deserves more than this," autosport.com quoted Perez as saying.
Perez might be keen to finish on the podium, which might be difficult after the penalty, but one can expect the Force India driver to give it his all. However, Vettel, who will start the race in third position, has it in him to trouble Rosberg and Ricciardo.
This track in Baku, where drivers can use their skills to overtake, could throw up a few surprises, and don't rule out a strong comeback by Hamilton.
Where to watch live
The European Grand Prix 2016 F1 race is schedule for 5 pm local time (6:30 p.m. IST, 2 p.m. BST)
| | |
| --- | --- |
| Country | TV Broadcaster |
| India | Star Sports 4, Star Sports 4HD |
| US | NBC |
| Canada | TSN |
| United Kingdom | BBC, Sky Sports |
| Middle East and North Africa | Bein Sports Arabia |
| Australia | Network Ten |
| Germany, Italy | Sky Sport |
| France | Canal+ |
| Asia | Fox Sports |