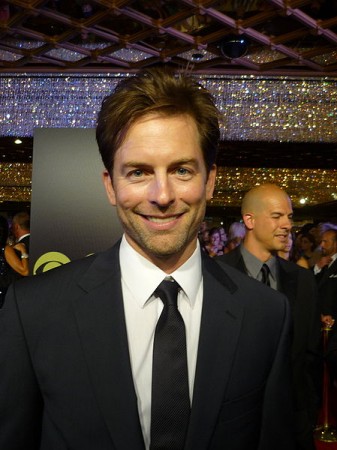 "Young and the Restless" actor Michael Muhney, who was fired from the soap almost six months back, has landed a movie role. The actor made the announcement on his Twitter account.
Details about his new project are unknown, but Muhney on Monday tweeted that he was flying to New York to take part in some meetings.
Whew! Flying to New York tomorrow to take some meetings...then back to L.A. on Sunday to begin filming a movie! #busybusy

— Muhney (@michaelmuhney) July 14, 2014
Muhney has starred in a number of movies back in the 90s before his career saw an upward swing. He came aboard the "Young and the Restless" team in 2009 after previous actor, Chris Engen, left the show.
He acquired a Daytime Emmy nomination in 2013 for Outstanding Lead Actor, and although he became a fan-favorite, Muhney was let go after his co-star Hunter King accused the actor of groping her.
The 20-year-old, who played the character of his niece Summer Newman in the drama, filed a complaint with show executives stating that Muhney groped her on two separate occasions.
She reportedly threatened to file a case with the police if Muhney wasn't fired from the show.
Reacting to his firing, Muhney told Huffington Post that although he suspected that he would be let go, it was still a shock to him.
"I saw it coming, and I didn't see it coming,' he said. 'I suspected it could happen, but I didn't think that it really would - at least not now. I always gave 100 per cent effort all the time. I believe in being professional at all times," he said.
"I didn't utter a word.There was truly a moment when I thought I was having a very vivid, surreal dream and I couldn't wake up."
On the reason given for his dismissal, Muhney revealed: "It was explained to me that CBS and Sony want to give Adam a break for 3-6 months and then they'll bring him back with a different actor. Maybe he does need a break. Adam has been on screen a lot. He's not being killed off."
Since Muhney's departure from the show, a number of fans have rallied to get the actor back on. At the time, a few even threatened to boycott the series if their favorite actor wasn't brought back as Adam Newman. Change.org even has several petitions demanding CBS to rehire Muhney.
However, neither Muhney nor the show executives have been opening up about him returning to the show.
Although Muhney landing a movie role is good news, fans of the actor are sure to be disappointed now that the actor has cut off all his ties with the daytime drama.