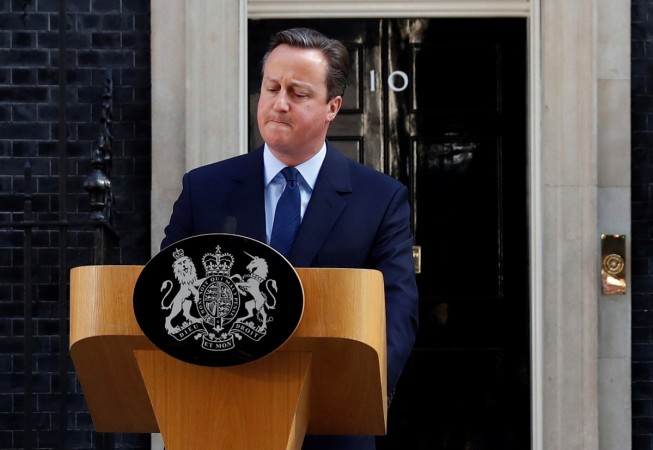 Britain's former Prime Minister David Cameron on Monday resigned from the House of Commons. Cameron's decision comes three months after he resigned from the prime ministerial position following his loss in the European Union referendum.
Cameron had campaigned strongly for the United Kingdom to stay within the European Union (EU) and had urged the voters to vote against Britain's exit (Brexit) from the EU on the referendum day in July. However, the citizens voted for Brexit and Cameron's 'Remain' campaign suffered a loss, forcing him to step down from the position of prime minister. The position was then claimed by Theresa May in July.
Cameron's resignation from the Parliament is seen as unusually early and it is believed that he resigned after Theresa May, last week, decided to permit the state-funded schools to reintroduce selection by academic ability. Cameron had strictly opposed this move during his office tenure. However, Cameron denied any such association of his resignation to May's decision.
"The circumstances of my resignation as prime minister and the realities of modern politics make it very difficult to continue (in parliament). Without the risk of becoming a diversion. I fully support Theresa May and have every confidence that Britain will thrive under her strong leadership," Cameron said in a statement.
"This decision has got nothing to do with any one individual issue and that way the timing I promise is coincidental. Obviously I have my own views about certain issues. People know that. That's really the point. As a former PM, it's very difficult to sit as a backbencher and not be an enormous diversion and distraction from what the government is doing," Cameron told ITC in an interview.
After Britain's shocking vote to exit from the EU, many critics targeted the former prime minister and blamed him for giving the choice of such a referendum in the first place. He was also blamed for not managing the Remain campaign effectively considering the rising anti-EU populism in the region.
His decision to hold the referendum was also seen by many as a bid to placate the eurosceptic opponents in the Conservative Party.
The UK PM Theresa May wished Cameron luck for his future in a statement on Facebook. "I was proud to serve in David Cameron's government -- and under his leadership we achieved great things," she wrote.