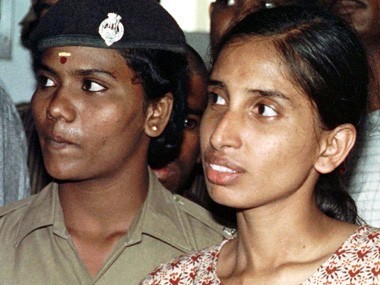 A former Supreme Court judge who headed the bench that confirmed the death sentence of Rajiv Gandhi's assassinators said that that the four convicts should not be hanged.
Asserting that after the convicts served 22 years in jail, former judge K.T. Thomas said that hanging Murugan, Santhan and Perarivalan would be like giving them two separate punishments. He also stated that it would be a breach of Article 21 of the Constitution if they were executed.
"If they are going to be awarded (death sentence) after spending 22 years in jail, it would be like giving them two punishment for the same crime, which is against the constitution" Thomas told IANS.
Urging President Pranab Mukherjee to review the rejection of their mercy plea Thomas said, "The president should reconsider this because as of now the three have undergone a punishment more than the term of life imprisonment."
"It was my misfortune to have presided over that bench," he told The Times of India.
"At a time when the Supreme Court bench headed by me pronounced judgments in Rajiv Gandhi assassination case, apparently, we did not consider the nature and character of the accused who were sentenced to death penalty by us."
"It was only many years thereafter a bench headed by Justice S B Sinha pointed out that without considering the nature and character of accused, a death sentence should never be awarded. His judgments mentioned errors in previous SC judgments and that applies to Rajiv Gandhi assassination case."
A three-member bench of the Supreme Court, which includes Thomas, Justice D.P. Wadwah and Justice S.S.M. Quadri, had awarded capital punishment in 1999 to four assassinators including Murugan's wife Nalini. Her death sentence was commuted to that of life in 2000 after former President Prathibha Patel accepted her mercy petition following an intervention by Sonia Gandhi.
Rajiv Gandhi was assassinated at an election rally on 21 May, 1991 by a Tamil Tigers woman suicide bomber. All four were charged to have played crucial role in the killing.
The most wanted among the list was late Tamil Tigers chief Velupillai Prabhakaran, who was killed in Sri Lanka in 2009.