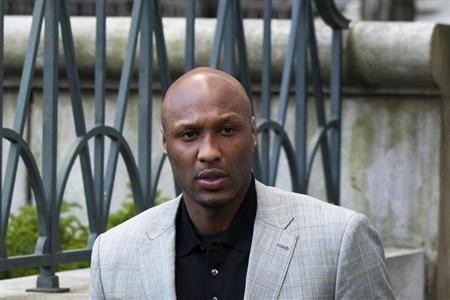 Former Los Angeles Lakers player Lamar Odom, who starred in the NBA for a number of seasons with other teams as well, has been hospitalised after he was found unconscious in a Nevada brothel on Tuesday. Odom is also the ex-husband of reality star Khloé Kardashian.
The Nye County Sheriff's Department had to rush to Love Ranch in Crystal, Nevada, as they received a call regarding an unresponsive man, who was in urgent need of attention and ambulance. The Facebook page of their department had a statement regarding Odom, explaining the situation.
"At approximately 3:15 pm on October 13, 2015, a call came into the Nye County Dispatch Center from Richard Hunter, Media Director for Dennis Hof's Bunny Ranch, requesting an ambulance for an unresponsive male experiencing a medical emergency at the Love Ranch in Crystal, Nevada, approximately twenty miles north of Pahrump, Nevada in Nye County.
"An ambulance from Pahrump Valley Fire and Rescue Service arrived at 3:34 pm and the patient, identified as Lamar Odom was stabilized and transported to Desert View Hospital arriving at 4:16 pm. Nye County Sheriff's Office Detectives Cory Fowles and Michael Eisenloffel arrived and conducted an investigation on scene."
The NBA star was too tall for the helicopter and had to be transported via an ambulance to the Sunrise Hospital in Las Vegas, Nevada.
"After being treated by the physicians, arrangements were made to transport him by Mercy Air helicopter. However, Mr. Odom was unable to be transported by air due to his stature. He was immediately transported by Pahrump Valley Fire and Rescue Ambulance to Sunrise Hospital in Las Vegas, Nevada for further treatment."
As of now, sources have told TMZ that Odom is in critical state. Odom was reportedly said to be enjoying with some girls for days at Love Ranch, where he was found unconscious.
Khloé and Kim Kardashian are also expected to visit Odom in the hospital, while his fans and friends in the NBA are praying for his recovery.