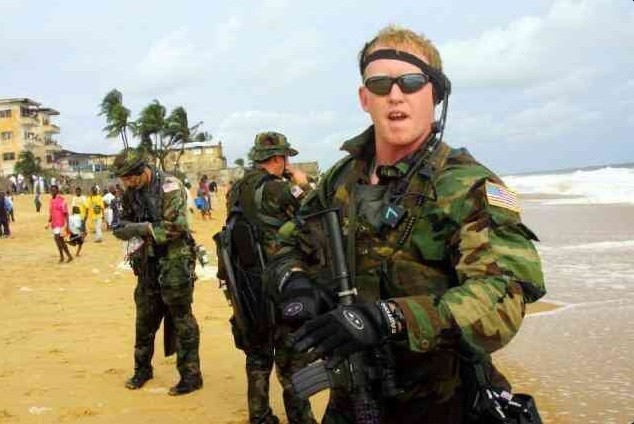 Breaking the code of silence maintained by the elusive US Navy SEALs after the secret mission of eliminating terrorist Osama bin Laden in 2011, former member Robert O'Neill has now revealed himself as the person who fatally shot the al-Qaeda chief in the head.
The identity of 38 year-old member of the Team Six, which killed Laden in his Abbottabad house in Pakistan, was revealed on Sofrep website that covers military and special-op news.
O'Neill, who retired after serving 17 years in the Navy, had been mentioned as "The Shooter" in an Esquire article last year, in which he talked about joining the armed forces at the age of 19 and disclosing that he had shot Osama bin Laden thrice in his head.
The former SEAL is now set to give an interview to Fox News that will be aired on 11-12 November.
According to reports, the programme titled "The Man Who Killed Osama bin Laden" will disclose "an extensive, first-hand account of the mission, including the unexpected crash of one of the helicopters that night and why SEAL Team Six feared for their lives".
However, O'Neill's identity disclosure has flouted the norms of secrecy of the Navy and the Naval Special Warfare Leadership has written a strongly-worded letter to serving and retired SEALS, stating that members who violate the ethos "are neither teammates in good standing, nor teammates who represent Naval Special Warfare."
In the letter dated 31 October, the naval leaders reiterated the SEAL ethos: "I do not advertise the nature of my work, nor seek recognition for my actions."
"Our ethos is a life-long commitment and obligation, both in and out of the service... We do not abide wilful or selfish disregard for our core values in return for public notoriety and financial gain, which only diminishes otherwise honourable service, courage and sacrifice," the scathing letter reads, as posted on Sofrep.
The letter is also likely directed at former SEAL Team Six member Matt Bissonnetee, who wrote "No Easy Day" under the pen name "Mark Owen," detailing his role in the Osama bin Laden raid.
The SEAL leaders stated that revealing classified information is a violation of the law, and that they will seek "judicial consequences" for those who violate the law.
Following the disclosure, speculations have risen of O'Neill and his family becoming the target of terror groups such as the Islamic State. However, the ex-SEAL's father brushed off fears.
"People are asking if we are worried that ISIS (as the Sunni radical group Islamic State was previously known) will come and get us because Rob is going public. I say I'll paint a big target on my front door and say come and get us," Tom O'Neill, Robert's father, told Daily Mail.