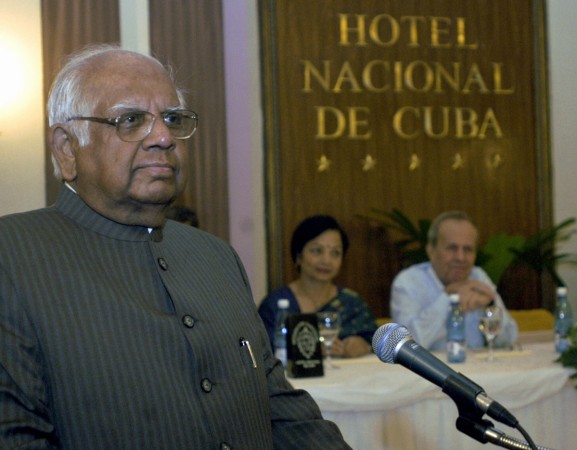 Former Lok Sabha Speaker Somnath Chatterjee passed away at the age of 89 on Monday morning (August 13).
Chatterjee was on a ventilator after being rushed to the Belle Vue hospital in Kolkata on August 7. His health had deteriorated after he suffered a mild heart attack on Sunday. He breathed his last on Monday.
The 10-time parliamentarian was not keeping well for the past two months. In July, Chatterjee had suffered a hemorrhagic stroke, following which he was admitted to a private hospital for a few days. He was later discharged after his condition improved.
On August 7, he was again admitted to Belle Vue Clinic with a kidney ailment.
"Chatterjee suffered a mild heart attack today (Sunday) but has recovered from it," The Hindu quoted a senior official of Belle Vue Clinic as saying.
"He continues to be in critical but stable condition. But anything can happen when an 89-year-old man is suffering from total kidney shut down and is on dialysis. We are trying our best," Pradeep Tandon, CEO of Belle Vue clinic said, reported the English daily.
Born to a barrister named Nirmal Chandra Chatterjee, who was a prominent parliamentarian of the Hindu Mahasabha, Chatterjee had joined the Communist Party of India (Marxist) (CPI(M)) in 1968. He was chosen as the Speaker of the Lok Sabha in 2004 when the United Progressive Alliance (UPA) government led by Manmohan Singh came to power.
Chatterjee had contested for the Lok Sabha in 1971 from Burdwan constituency and after he was fielded from the seat owing to the death of his father. Since then he had won nine more elections to the Lower House. (CPI(M)) severed all ties with him in 2008, when he refused to resign from the position of the Speaker after his party withdrew support from the UPA government.
The former Lok Sabha speaker was a very respectable person and loved by the people of his constituency.
A cloud of gloom now hangs over West Bengal and condolences are pouring in for the former Lok Sabha speaker.
Former MP and Speaker Shri Somnath Chatterjee was a stalwart of Indian politics. He made our Parliamentary democracy richer and was a strong voice for the well-being of the poor and vulnerable. Anguished by his demise. My thoughts are with his family and supporters.

— Narendra Modi (@narendramodi) August 13, 2018
Saddened to learn about the demise of Somnath Chatterjee, former Speaker of Lok Sabha. He was an excellent Parliamentarian, whose long years as a member of the House, enriched our Parliamentary traditions. My condolences to his family and supporters in this hour of grief.

— Amit Shah (@AmitShah) August 13, 2018
Saddened at the passing away of former Lok Sabha Speaker Somnath (Da) Chatterjee. My condolences to his family and admirers. This is a great loss for us all

— Mamata Banerjee (@MamataOfficial) August 13, 2018
Saddened by the demise of former Lok Sabha Speaker, Shri #SomnathChatterjee. He was an outstanding Parliamentarian, who was elected to Lok Sabha 10 times. He was always affable and highlighted people's problems. He firmly stood by the principles he believed in: Lalchand Sharma pic.twitter.com/2FzmWRdvFh

— Dehradun Congress (@INCDehradun) August 13, 2018
Former Loksabha Speaker #SomnathChatterjee was a towering figure in Indian politics, known for his iconic parliament speeches that motivated a generation of Indians. We lost a conscientious leader, who relentlessly fought for social justice and harmony.May his soul rest in peace pic.twitter.com/QiOUsp1ZIl

— CM of Karnataka (@CMofKarnataka) August 13, 2018
Heartfelt condolences at the passing of Shri #SomnathChatterjee With his demise, the country has lost seasoned politician and an expert on Parliamentary matters. May Waheguru grant peace to the departed soul and strength to the bereaved family.

— Harsimrat Kaur Badal (@HarsimratBadal_) August 13, 2018