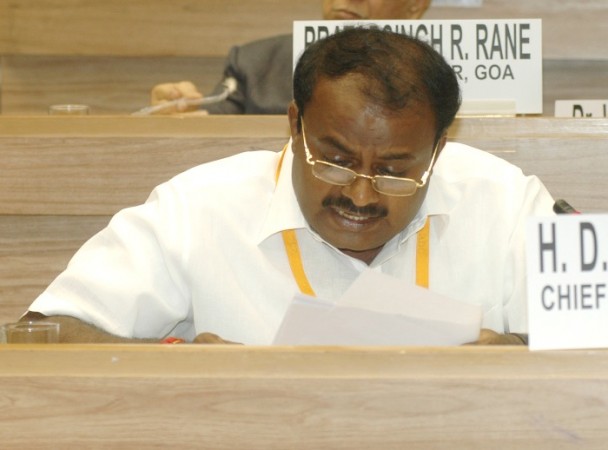 Former Karnataka Chief Minister HD Kumaraswamy has allegedly demanded ₹20 crore bribe for his party JD(S)' seat in the state Legislative Council.
This has been revealed in a newly surfaced audio CD, reported The Times of India. When the newspaper contacted the former Chief Minister, he replied that there is only mention of money in the CD, implying that there is no evidence for taking money, adding: "Has anyone captured a video of me taking money?"
The audio clip, with a 35-minute duration, contains a conversation between Kumaraswary and Vijugouda Patil, a JD(S) executive from Bableshwara in Bijapur district and his supporters. The CD is understood to have been released by the Vijugouda Patil Abhimanigala Balaga (Vijugouda Patil fans association).
The conversation reveals the bargaining which took place between Kumaraswamy and Patil. While Patil and his group tried to bring down the initially quoted ₹40 crore to ₹10 crore, Kumaraswamy, in resentment, reportedly told Patil and his men that JD(S) has 40 MLAs in the Assembly, and each vote is necessary for the MLC candidate; and hence the MLAs need ₹1 crore each at least.
Kumaraswamy also explained that the MLAs have taken loans on huge interests to contest the elections in 2013 and, to compensate the loans, they needed the money.
The conversation supposedly took place in Bangalore in June. The MLAs in Karnataka elected four MLCs in the month.
At last, Kumaraswamy compromised the deal at ₹20 crore, by stating: "Give Rs 20 crore, I will try to convince MLAs."
The former CM has reportedly defended his act without any hesitation, and insists he has not done any big crime.
"If TV channels want to run this for weeks, they are free to do so and increase their TRPs. I have only stated how money is important in present-day politics at all levels. After BJP came to power in 2008, the political scenario has changed," he said.
Kumaraswamy has even expressed his intension to debate on the matter.
"The system (of cash-for-MLC seat) is not only in the JD(S), but BJP and Congress too," he added.
On the other hand, Patil said that the CD was released by the Congress to tarnish his image.
Meanwhile, reacting to the news, PGR Sindhia - a senior politician from Karnataka - commented: "The credibility of politicians is very low and such developments will further pull us down."