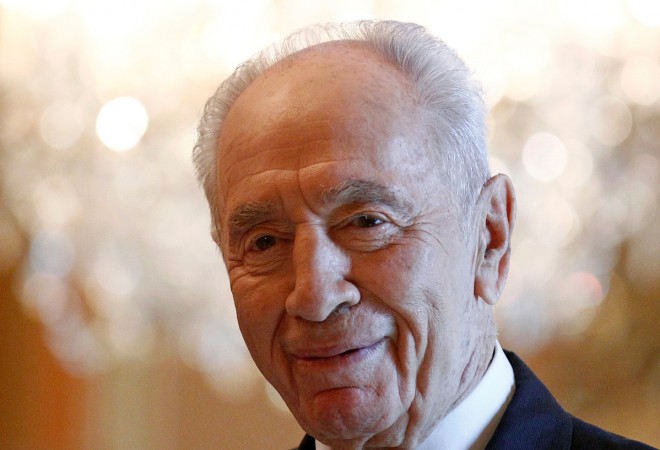 Shimon Peres, former Israeli president and prime minister, has died at the age of 93 two weeks after suffering a major stroke.
Peres was rushed to the hospital on September 13 after he said that he was feeling ill. He was diagnosed with a major stroke following several medical tests. His condition had improved for a while before a sudden deterioration in health claimed his life.
Peres, a Nobel Peace Prize laureate, was the prime minister of Israel twice and also served as the country's ninth president. He had jointly won the Nobel Peace Prize in 1994, along with then prime minister Yitzhak Rabin and Palestine Liberation Organisation Chairman Yasser Arafat, for negotiating Oslo peace accords with Palestine in 1993.
According to him, Palestinians were Israel's "closest neighbours" and might become its "closest friends," BBC reported.
Peres was one of Israel's most defining politicians and also the last surviving figure present during Israel's formation in 1948. He was also the country's most popular politician serving as president for seven years from 2007-2014.
United States President Barack Obama also mourned his death saying: "A light has gone out, but the hope he gave us will burn forever. Shimon Peres was a soldier for Israel, for the Jewish people, for justice, for peace, and for the belief that we can be true to our best selves - to the very end of our time on Earth, and in the legacy that we leave to others. For the gift of his friendship and the example of his leadership, todah rabah, Shimon. ‎"
Peres was born in Wiszniewo, Poland, but emigrated to British Mandate Palestine in 1934 at the age of 11. He was a founder of the Labour-Zionist Youth Movement and also a member of the Hagana Jewish military forces before Israel declared independence.
He was first elected to the Israeli parliament in 1959 and handled the defence, finance and foreign affairs portfolios before serving as the country's prime minister for two terms. Peres never won a national election outright even though he ran for prime minister five times between 1977 and 1996.
Peres worked actively even during old age through his NGO Peres Centre for Peace, which encourages closer ties between Israel and Palestine.
The former president and prime minister had several health issues this year. He was admitted to hospital twice due to a heart attack. The doctors had earlier said it was a "mild cardiac event," due to which he had to undergo catheterisation to widen an artery. In the second case, he was rushed to hospital with chest pains and an irregular heartbeat.