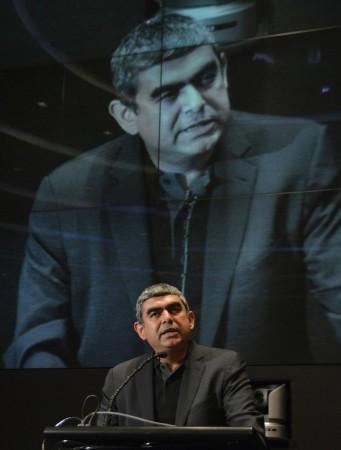 Even as Infosys saw a major leadership transition with newly-appointed CEO Vishal Sikka taking over the charge just five days ago, former officers have sought a buyback of shares worth ₹112 billion, which constitutes about 40 percent of the company's current cash and its equivalents.
Three former officers, including former chief financial officers TV Mohandas Pai and V Balakrishnan and former senior vice president DN Prahlad, have written to Sikka, the IT company's first non-founder CEO, to immediately consider a buyback of shares given a 'dramatic valuation disconnect' between the company's shares and that of its peers.
If Sikka does buyback the shares, it would be the first time in Infosys' history since it went public in 1993. This process entails a company reducing the number of outstanding shares by buying back its own shares.
"We are a set of retail shareholders who want to impress upon the board of Infosys to consider our proposal of announcing a large, consistent buyback program for the company," the trio wrote in the letter, dated 29 July.
"By writing this letter, we are providing a voice to thousands of other shareholders of the company, both institutional and retail who overwhelmingly support a large cash return," they said.
They cited the 'abrupt' change in the leadership of the company as raising 'serious concerns' among stakeholders.
"Infosys today is seeing a major transition from a founder-driven company to a non-founder driven company...While the change is inevitable, the abrupt nature of the change raises some serious concerns not only in our minds but also with many stakeholders," the officers added in the letter.
They also said that the company is over-capitalized, given its resources of ₹300 billion in cash and cash equivalents. Given this massive net cash position and robust net income generation, Infosys is perhaps the most over-capitalized company in the Indian corporate history, from the trio's perspective.
Infosys spokesperson Sarah Gideon told Reuters that "the Infosys board and the management receives requests on a variety of subjects from shareholders and investors on an on-going basis...Should there be any development that will impact our shareholders, we will immediately inform the regulatory bodies and shareholders on priority."
As share repurchasing increases earnings per share and increases the market value of the remaining shares, the news of the possible buyback helped Infosys shares gain up to 2.9 percent in trade on Wednesday.