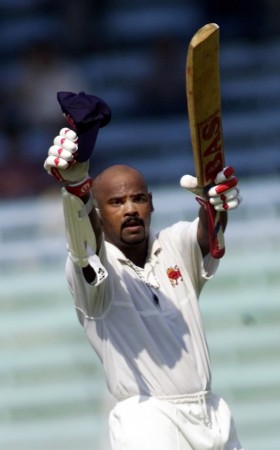 Former India batsman Vinod Kambli suffered a heart attack on Friday, with the 41-year-old admitted to the Lilavati Hospital in Mumbai.
Kambli suffered the problem while driving from Chembur to Bandra in his car, with the former cricketer forced to stop his vehicle after feeling pain in his chest.
Sujata Patil, a policewoman on duty at the time, witnessed the incident and quickly rushed Kambli to the hospital.
According to reports, Kambli is thought to be in a stable condition with the doctors revealing there is nothing to worry about.
Kambli underwent angioplasty on two blocked arteries at the same Lilavati hospital in July 2012
Kambli was a ferociously talented left-hander, who came into the public eye following that famous 664-run stand with his schoolmate Sachin Tendulkar.
The Mumbaikar featured in 17 Tests for India, along with 104 ODIs, but failed to capitalise on his immensely gifted talent, with forces outside the field coming to haunt him. He played 129 first class matches, scoring 9965 runs at an average of nearly 60.
Kambli will perhaps be best remembered for that infamous 1996 World Cup semifinal in Kolkata against Sri Lanka, where he walked back to the pavilion in tears after the match had to be called off due to crowd trouble with India on the brink of defeat.
The left-hander played his last international match for India against Sri Lanka in Sharjah way back in 2000.