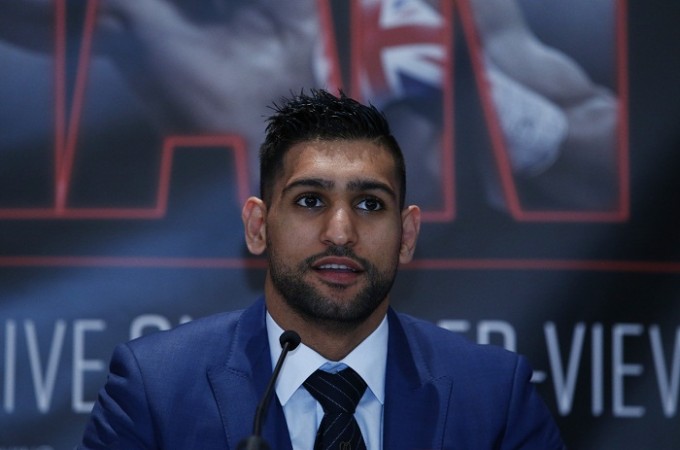 British boxer Amir Khan is gearing up for the biggest fight of his career, against Saul 'Canelo' Alvarez for the WBC middleweight title at the T-Mobile Arena in Las Vegas on Saturday. Khan is set to make a cool £9 million ($13.25m) from the fight.
However, Khan will not be distracted with the money on offer from the bout. The British boxer will want to put up a clinical performance and defeat Canelo Alvarez, who is the big favourite to retain his title.
But, former heavyweight champion, George Foreman does not want to rule out an upset win. Foreman wants Khan to use his speed and movement, which could help the Brit stun Alvarez.
"Khan is so fast and he has a knack for landing body punches, which could assure him he'll get a 12-round decision. He's a good body puncher. It's just part of his repertoire," LA Times quoted Foreman as saying.
Alvarez's only loss came against Floyd Mayweather in 2013, with the Mexican picking up some impressive wins against James Kirkland and Miguel Cotto in his last two fights. So, the champion will come into this fight confident, but Foreman warns Alvarez not to be overconfident.
"Canelo has been in there with the most elusive of all fighters, Floyd Mayweather, so he's not going to see anything he hasn't seen before. But if he comes in overconfident, Khan, with that speed, will overtake that power and there'll be a new outlook in boxing.
"If Canelo has that inch of overconfidence, that could be the key to Khan pulling it off with the speed. Canelo should go into his dressing room scared. That fear protects you."
Alvarez will depend on his punching power against the quick movement of Khan, who must keep a strong eye on his opponent's punches.
The fight is one of the most difficult of Khan's career, as it is the first time that the boxer will fight above the 148-pound category. Khan will take on Alvarez at a 155-pound catchweight.