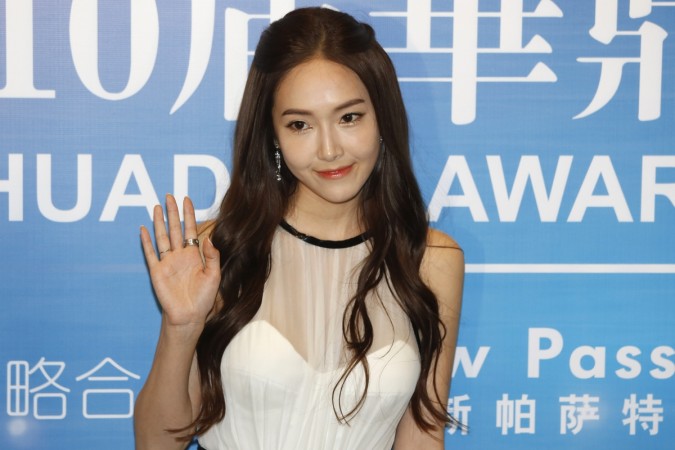 For more than a year, former SM Entertainment artiste Jessica Jung has been rumoured to be dating Tyler Kwon. She finally admitted that she is in fact in a relationship with Coridel Entertainment's CEO.
The singer, who recently made her solo debut, said in an interview with TV Report that she's never been in a long-term relationship, indicating that it's different with her boyfriend. Jung, who has been spotted with Kwon several times, added that it's his smartness that has been a deciding factor, according to Allkpop.
While news of her relationship is hardly surprising for fans of the K-pop star, it is the first time that Jung has spoken about her partner, who she now works closely with. After quitting SM Entertainment and her former band Girls Generation, she has now been signed as a solo artiste with Coridel Entertainment.
Her short tryst with the entertainment company seems to have brought her good fortune. Jung's recently released music video "Fly" has topped several music charts, including MelOn. Jung shared this happy news with fans via Instagram.
However, it seems as if the singer wants to focus on her career and said there won't be a wedding anytime soon. But if she were to be married in the future, she would definitely want to have more than one child.
"I like having a younger sister so I think at least two," she said. However, she didn't specify if this is hers and Kwon's future plan.
Currently, Jung is in the midst of several promotional activities surrounding her solo debut album. The "Love me the Same" singer, who releases her full-length EP on Tuesday, May 17, is reportedly producing more copies of her album, after selling nearly 60,000 units, according to another Allkpop article.
This success hasn't gone unnoticed and fans and family alike have congratulated her on social media. Her sister Kystal posted a heartwarming message on Naver's V app. She wrote, "Our unnie's solo is coming out.You have to add, 'Please listen to it a lot, congratulations.... I really like the song 'Love Me the Same' as much as the title song 'Fly.' They give off my sister's vibe."