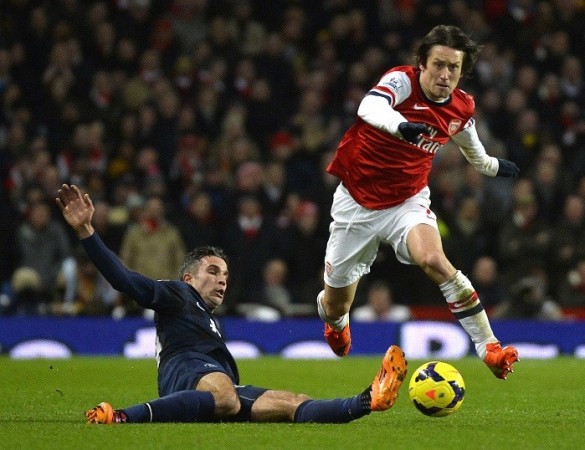 Ray Parlour believes Jose Mourinho stepped out of the line with his comments on Arsene Wenger, while adding he wants a "code of respect" to be inculcated between managers.
The Chelsea manager has always been the first to play mind games, doing so with several of his counterparts in the English Premier League already, particularly Manuel Pellegrini of Manchester City.
The Portuguese also targeted Wenger, a long-time rival, calling the Arsenal manager a "specialist in failure" after the Frenchman said Mourinho was playing down his team's chances of winning the Premier League owing to his "fear of failure."
Wenger refused to respond directly to those comments, but did suggest he was embarrassed for Mourinho and Chelsea, with former Arsenal midfielder Parlour coming out in support of his former manager.
"I think there should be a code of respect, like when you respect your fellow players," Parlour told PA Sport. "Everybody's trying to win trophies, everybody's trying to be successful, but sometimes you can go over the top a little bit.
"Whether Jose Mourinho looks back -- and he probably doesn't regret it -- but maybe looks back and says 'Maybe I went too far this time'. If you look at Arsene Wenger's record it's not too bad: two doubles, he won the FA Cup a few times, he had an unbeaten season.
"Everybody knows the last eight or nine years they haven't won a trophy, they're trying to put that right. A lot has changed in the club. They've more or less paid the stadium off and there's lots of opportunity now."
Parlour, though, refuted suggestions, the "mind games" will affect Wenger too much. "Arsene Wenger won't let it bother him," the former Gunners midfielder added. "He's had his say back and that's the end of it.
"That's how Arsene Wenger works. He'll be worrying about his team and getting them prepared for Wednesday night against Bayern Munich.
"It's a much bigger deal than what Jose Mourinho said."
Attention has turned quickly to the epic Champions League clash against Bayern, with Arsenal knocked out by the eventual champions in the last-16 last season on the away goals rule.
However, the tie was probably lost in the first leg at the Emirates, with Bayern managing a 3-1 victory, and Parlour believes getting something in the first leg at home will be crucial to Arsenal's chances of creating an upset.
"Arsenal will have a chance being at home," Parlour said. "I just hope they can do themselves justice and put their grade A game on and give Bayern Munich a game."