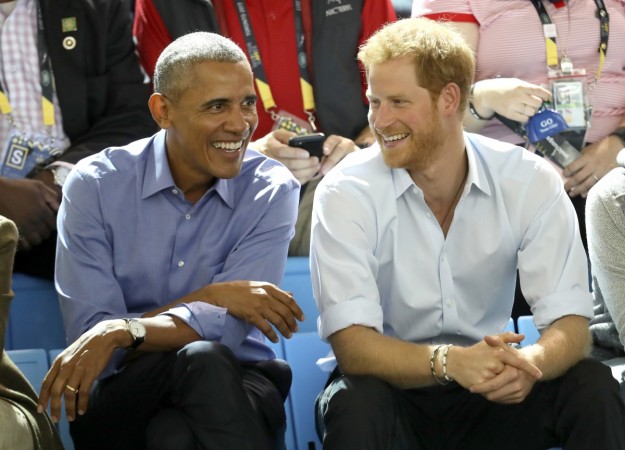 Prince Harry and Meghan Markle have been asked not to invite former US President Barack Obama and his family to their wedding by top government mandarins, as per reports on Daily Mail.
Surprisingly, even current United States President Donald Trump may not be on the guest list as the royal couple has reportedly said the wedding is only for friends and family.
An insider was quoted as saying in a Daily Mail report: "President Trump will not be invited because the wedding will be for friends and family only. It won't be a state occasion. If Mr Obama was invited, the invitation could look like a snub to Mr Trump, and His Royal Highness would not wish to cause a diplomatic row."
The 33-year-old prince has been on good terms with the former US President: They bonded over the Invictus Games. Harry has told his close aides he wants the Obama family to attend his big day, but officials have apparently asked him to change his mind on inviting the former US President so that the nation's relationship with the US is not hampered.
Meanwhile, former Suits star Markle publicly showed her dislike towards the current US President when she called him "misogynistic" and "divisive" during the US Presidential elections.
Trump backing out of his trip to London could also play a key factor for him not being invited to the wedding. The Republican leader took to Twitter saying he had cancelled the trip to Britain as he claimed it might lead to mass street protests. He blamed also Obama, who he claimed had apparently sold the former embassy in Grosvenor Square.
Reason I canceled my trip to London is that I am not a big fan of the Obama Administration having sold perhaps the best located and finest embassy in London for "peanuts," only to build a new one in an off location for 1.2 billion dollars. Bad deal. Wanted me to cut ribbon-NO!

— Donald J. Trump (@realDonaldTrump) January 12, 2018
The wedding bells are soon set to ring as the royal couple's marriage is scheduled to take place at the St George's Chapel, Windsor Castle, on May 19.
As per reports on Daily Mail, Columbian pop star Shakira is set to perform at the London's O2 Arena on June 11 for the royal couple. Markle has often called the singer her favourite pop star. The soon-to-be bride had also auditioned once to feature in one of Shakira's music videos.