Remember Speeder bikes also known as jumpspeeders in the fictional Star Wars universe? If you thought such transport option exists only on screen, you are wrong. Meet Dubai Police's hoverbike announced at GITEX, the biggest technology expo in the Gulf region last week.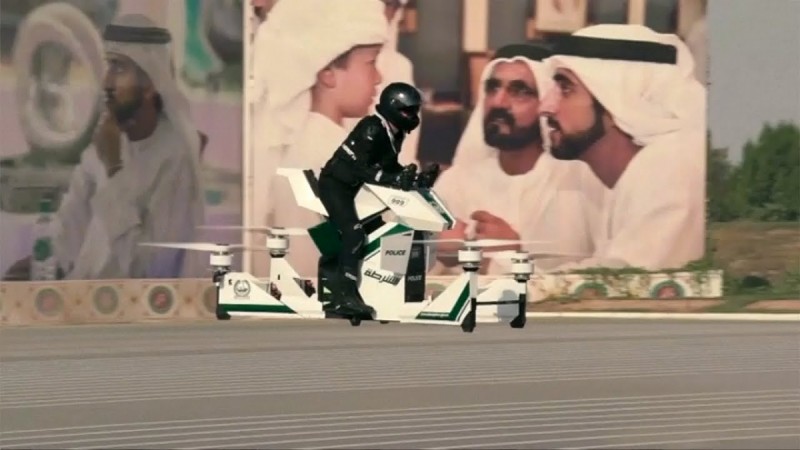 Dubai Police is known for its flamboyant fleet of cars that include Bugattis, Aston Martins, Ferraris, Lamborghinis and others. But a quadcopter-style hoverbike is something new and unheard of in any law and order force around the world.
Dubai Police's hoverbike is based on the Scorpion-3, a single-seat, electric-powered machine developed with Russian company Hoversurf, Dubai Police version can hover up to an altitude of five meters 16 feet and it can travel at a speed up to 70kmph. It can fly 25 minutes straight after a full charge. It takes around three hours to charge the batteries, but the batteries are swappable to keep hoverbike in the air if necessary.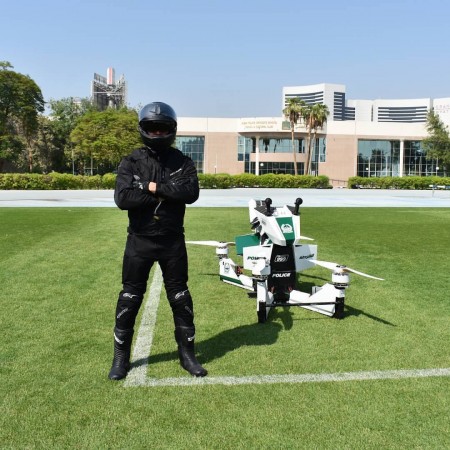 If you are thinking the above numbers are not so fascinating for a chase, the hoverbike is not meant for that. Hypercars and supercars in the fleet will continue to help police force in high-speed chasing. The hoverbikes will act as the first-responder vehicle in hard-to-reach places, such as the middle of a traffic jam.
Also read: Top 10 insane supercars of UAE Police including Lykan HyperSport, Aston Martin One-77
Hoversurf CEO Alexander Atamanov posted on Facebook explaining his company and Dubai police had signed a memorandum of understanding to mass produce the craft in the Dubai area.
"It works on electricity and can fly at five metres height and carry a policeman during emergency situations and heavy traffic. The bike can also fly without a passenger and can go up to 6 kilometres. It can fly for 25 minutes and can carry up to 300 kg of weight at a speed of 70kmph," First Sergeant Ali Ahmad Mohammad from the VIP Security Department in Dubai Police told Gulf News.