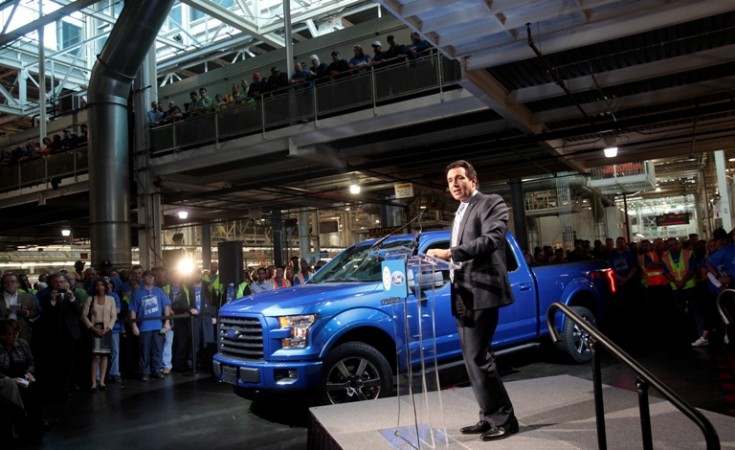 Ford's decision to replace steel with aluminium in its new Ford F-150 pickup was well-received by industry experts and consumers. Thanks to the 700 pounds offloaded weight, the Michigan-based car maker says the fuel efficiency of the 2014 F-150 truck is about 20 percent better than its steel-bodied predecessors.
Ford says that the F-150 truck has "the highest EPA-estimated fuel economy ratings of any full-size gasoline pickup on the market." Drawing its power from a 2.7-liter EcoBoost engine, the new F-150 delivers approximately 19mpg in city and 26mpg on the highway. The impressive mileage matched with its incredible towing capacity makes the Ford F-150 2014 a hard-to-ignore machine in its category.
Ford is competing with the likes of RAM-manufactured tow trucks, which are just as competent in mileage. The Ford F-150's aluminium body does not lose endurance with 700 pounds off it. Ford says its latest tow trucks are military grade and can be used for various purposes. It has an impressive tow rating of 12,200 when powered by a 3.5-liter Eco-Boost engine and maximum payload of 3,300.
"We set out to create the future of tough with the new F-150," Raj Nair, Ford group vice president, Global Product Development, said in a statement. "We are delivering with the toughest, smartest and most capable F-150 ever – and now the highest EPA-estimated fuel economy ratings of any full-size gas-powered pickup in America."
Ford offers the F-150 in four engine variants, a 2.7-liter EcoBoost with standard Auto Start-Stop, a new standard 3.5-liter V6 Ti-VCT engine, a more powerful 5.0-liter V8 Ti-VCT engine and a premium 3.5-liter EcoBoost engine.
In the basic 2.7-liter engine, Ford uses an Auto Start-Stop technology to boost mileage by halting the engine automatically when the brakes are applied. It restarts when the brakes are released.
In addition to the benefits that come along with aluminium use, Ford is also helping the industry get a boost. Its usage in the F-150s paves the way for other big vehicle auto makers to use it. Currently, only small vehicles by Tesla, Honda and GM use the metal.