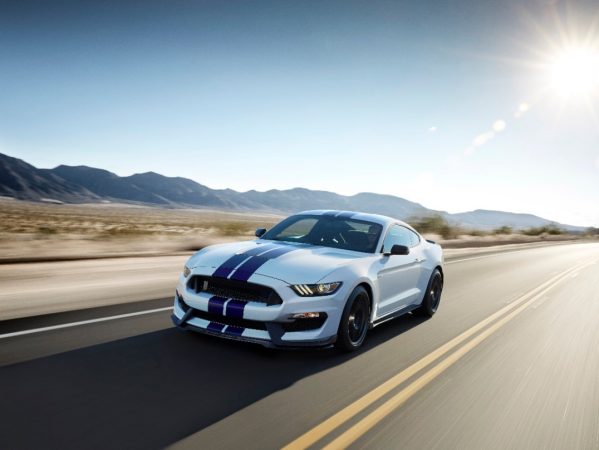 Ford is giving a one-time chance to get the first production unit of its 2015 Shelby GT350 Mustang through a public auction next month. The latest performance version of the legendary Mustang is going under the hammer at the Barrett-Jackson in Scottsdale, Arizona, on January 17. The powerful muscle car has a long history, which will bring generous bids from potential buyers.
Ford will donate all proceedings from the auction to JDRF, a charitable organisation fighting against Type 1 diabetes through research. There is no minimum bid for the car, but it's a Mustang that marks the 50-anniversary of the Shelby GT350, so we can expect a high value. Listed under Lot No. 3008, the all-new Shelby GT350 features powerful engine, latest independent suspension and excellent brakes, said Steve Ling, North America car marketing manager for Ford.
"Just as the Shelby GT350 did in 1965, we expect this new-generation pony car to demonstrate Ford Motor Company continues to lead the world in innovation and performance," Ling added, USA Today reports.
The 2015 Shelby GT350 was originally shown at the Los Angeles Auto Show. There is a 5.2-liter V8 engine pushing at least 500 horses down the pipes with 400 pound feet of torque. It has manual transmissions, magnetic rides along with the new independent suspension and powerful brakes. Design-wise, the latest Shelby GT350 is clearly a monster to compliment the inside power. If you are a muscle car fan, this is your machine for both daily commute and weekend drags.
"We took the best Ford Mustang yet and massaged every aspect of the car that affects the performance driving experience," Jamal Hameedi, chief engineer, Ford Global Performance Vehicles, said in a statement. "We tested endlessly on the most challenging roads and tracks in the world, and we believe serious drivers will love the Shelby GT350 Mustang."
Finally, the highest bidder and the owner of the 2015 Shelby GT350 Mustang can choose from available colors and packages for customisation.